---
APRIL 1996
---
The CD-ROM Software Column
by Nick Thomson
Reviews of The Interactive Alphabet, N N n' N Toymakers, Encyclopedia of Australia, Virtual Reality Cat and Virtual Reality Bird...
---
REVIEW - Virtual Reality Cat/Virtual Reality Bird
These are in fact two separate products, but since their conception and design are quite similar, I will review both together. Dorling Kindersley have achieved an excellent reputation for the quality of both their print and their CD-ROM products (eg. Ultimate Human Body, Stowaway and Eyewitness Encyclopedia of Science), and the 'Virtual Reality' series are of the same quality, but represent a significant change of direction.
'Virtual reality' in this context means that the user is made to feel that they are exploring a museum rather than looking up information in a multimedia reference 'book'. After a brief introductory sequence the user finds themself standing at the entrance to a museum. Beyond the marble archway a variety of exhibits are visible, some in the middle of a well polished wooden floor. The level of realism is such that the reflection from some of the exhibits can be seen in the floor. In the background there are animal noises and/or music. One moves along by pointing and clicking with the mouse. Diagram 1 (below) is an example of a display within Virtual Reality Cat.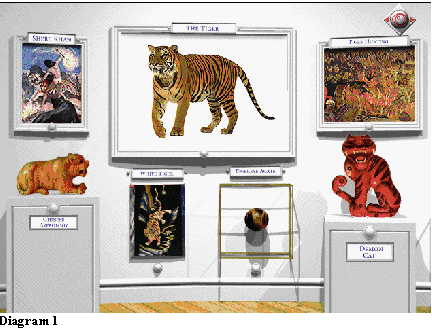 This display is a good example of the variety of both content and style to be found within the two products. As well as information about the various forms of cat (or bird) there are statues, paintings, curios and a wide variety of other objects that have to do with cats (or birds). In the museum section shown in the screen clip there is a painting of Mowgli battling with Shere Khan (from The Jungle Book by Rudyard Kipling), a large painting of a tiger and a smaller one of tiger hunting, a 'demon cat' statue, a tigereye agate in a glass case, a silk sheet of a Chinese white tiger and an ivory carving of a tiger. If any of these are clicked on then the viewer is 'taken in' for a closer look and a wide variety of additional information becomes available. For example, the painting of a tiger leads to a close in diagram of the tiger, a video clip on the striped coat, and sub screens about distribution, habitat, lifestyle, hunting, under threat and subspecies. There is also a See Also button that offers the user a choice of 6 further 'exhibits' in the museum. Some objects in the museum can be rotated through 360, so that the object can be viewed from all angles. The visual and auditory quality of the presentation is excellent throughout, and the video clips, although fairly short, are of good quality also. Diagram 2 (below) is an example of a topic screen, in this case from Virtual Reality Bird.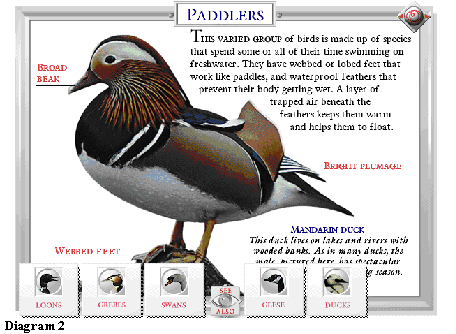 The museum is ideal for those who like to browse, and as can be seen from the tiger example above, the cross referencing is excellent. For those that are after information on a specific topic, there is an index. This provides an alphabetic listing of everything in the museum, as well as a very useful 'visual catalog' - a pictorial listing of all pictures, paintings, objects, videos and animations in the program. The index is accessed via the Navigator, an icon that is always present at the top right of the screen, and that looks like a small marble cornice. This too is a new concept, and a very clever way of minimising the intrusion of menus and dialogue boxes on the screen. If the user clicks on the icon, then a drop down menu of Backtrack (retrace your steps), Help, Index and Options (print or copy screens) appears. Alternatively, one can rotate the icon so that instead of a menu one is presented with a map of the museum. If this is clicked on then it will enlarge to take up most of the screen. If the user moves the mouse pointer over the map thumbnail pictures of the various locations will appear - if you click on one you will be taken to it.
Like all museums there is a store (the part that us parents try to avoid) - in this 'store' one can 'take' images or sounds for use elsewhere. At the centre of the museum there is an elevator. If you have other products in the series then you can use the elevator to move to one of them - so I was able to go from the 'cat floor' to the 'bird floor' by entering the elevator, selecting 'bird' and then putting in the appropriate CD-ROM when requested. Dinosaurs and Sharks are on the way - but there are blank slots in the elevator for eight more. Ultimately one will be able to tour an entire 'virtual reality' museum - what a great resource for schools! The product is very user friendly, and the online help is well illustrated and covers all features. My only complaints are the slow and somewhat cumbersome printing mechanism (screen shots) and the fact that it can sometimes be hard to find the point at which the mouse cursor changes to the desired movement arrow. However, these two products represent excellent introductions to their subject areas, and they make a pleasant change from the usual 'reference book' approach of most multimedia reference products.
System requirements
486SX or higher running Windows 3.1, 4 Mb of RAM, MPC-compatible double speed CD-ROM and Soundcard, SVGA display, Mouse.
Distributor Information
Roadshow New Media
Tel: (02) 552 8700
Fax: (02) 660 8436
RRP: $119.95
---
REVIEW - The Interactive Alphabet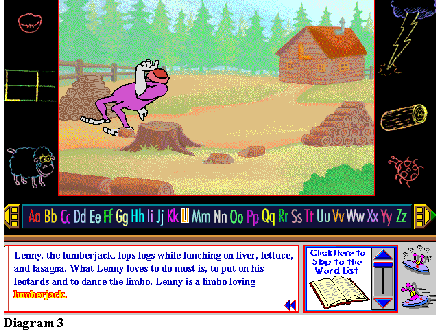 This is an introduction to the alphabet for 3 - 6 year old children. It is a hybrid disk, so the program can be run on both Macintosh and Windows systems. It is colourful, creative and very well presented, and my 7 year old daughter loved it. At the opening screen one is giving the choice of 'Show Me' or 'Let Me Play'. After the selection is made then the user is taken to the screen for letter A, similar to that in Diagram 3 (right).
While the 'story' at the bottom of the screen is read an animation takes place in the main window. These animations are lengthy and very appealing to young children. In the example shown in Diagram 3, 'Lennie the lumberjack', lops logs, lunches on liver, lettuce and lasagne, belches loudly then does the limbo in his leotard (shades of Monty Python!) Young kids love this sort of zany humour, and mine have replayed a number of the animations repeatedly. Their other favourite is Igor the International Intelligence Agent, who found himself isolated in an igloo etc.
If the Show Me option has been chosen then the program will move through from one letter of the alphabet to the next, playing the animation/story once then moving on. However, if Let Me Play is chosen, it is possible for users to interact with the story. Once the animation sequence has been completed then a word list will appear at the bottom right and a number of options become available. One can activate some of the chalk drawings on either side of the animation screen, or click on one of the words in the word list. When the latter option is chosen, the word is pronounced and a brief animation takes place. Again, most of these animations are amusing and quite creative. There are generally about 10 words in the word list for each letter. Alternatively one can just click in the animation window to activate the next word in the word list. In addition certain words in the story itself are highlighted (lops and limbo in the example screen). If the user clicks on one of these then a sentence that uses the word in context (and thereby explains the meaning) is provided. For example, When Lenny lops logs he is chopping them up with his axe. One can jump to any other letter by clicking on it in the alphabet that runs across the middle of the screen.
Interactive Alphabet is a creative and interesting introduction to the alphabet for preschool aged children. It teaches spelling and builds vocabulary, and is very easy to use. In the case of vowels, both phonetic and letter sounds are taught eg. ink and icicle. There is an accompanying booklet that provides installation and usage instructions for parents/teachers, and there is also online help. If the help icon is clicked on then it changes to a cursor - to get information about a section of the screen one clicks on that section with the help cursor.
System requirements
Windows: 486 or higher running Windows 3.1, 8Mb of RAM , Sound Blaster compatible soundcard, double speed CD-ROM, Hard disk, Super VGA display, mouse
Macintosh - L.C.III or better, System 7.1, 8 Mb RAM, double speed CD-ROM, 640x480 colour monitor, mouse
Distributor Information
Merisel
Tel: 61 2 936 1156
Fax: 61 2 936 1122
Tech Pacific Australia
Tel: 61 2 697 8552
Fax: 61 2 697 8593
Dataflow
Tel: 61 2 417 9700
Fax: 61 2 417 9797
RRP: $45.00
---
Naomi's Notes
The Interactive Alphabet
ABCD...EGR..OP..STUNMO..Y AND Z. Uh Oh I think I need Interactive Alphabet!!!!
Although this really is for children around the ages of 4 - 6, I had great fun with this product. Interactive Alphabet is basically a fun and enjoyable way to learn the alphabet. It takes you through each letter of the alphabet and shows you stories containing words starting with the appropriate letter. It also has a cartoon to go with each of the letters. On the Menu screen you have two choices. One to choose 'Show me' where it is read through and shows the cartoons or two to choose 'Let me Play' where on each screen it stops and allows you to click on words and see extra animations. I prefer 'Let me Play' because I enjoyed seeing the extra animations as well as the main one and being read to.
One of my favourites is Ollie the Ox who lived in an Outhouse and loved the Opera.
If 'Let me Play' has been chosen then there is also a small list of words on the right hand side of the screen. It contains such words as Organ, Ogre and Owl. You can click on these words and watch Other Outstanding things Occur On your Own screen !!!! The Interactive Alphabet is really good. It has some very amusing stories, a great use of words, good colours, cute cartoons, good sound effects and is very funny. I guarantee your kids will love it as well as learn their alphabet. Also, the hard words in the sentences are highlighted and they can be clicked on and you will be given an easy to understand meaning of the word. Interactive Alphabet even has some great music, such as when ( In the letter B section) Benji the Bear, Bob Bunny and Betty the Ballerina play the blues! Or when (In the letter L section) Lenny the Lumberjack does the Limbo!!!
This really is heaps of fun and I strongly recommend it for kids, Oh and just to let you in on a little secret, my Dad spent hours playing with it!!!!!!
I give The Interactive Alphabet a 5/5 rating. Thanks for reading!
---
REVIEW - N N n' N Toymaker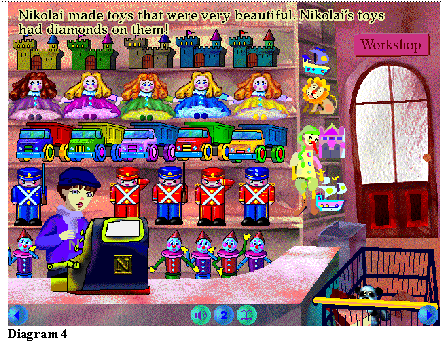 This is an interactive story book that includes some educational activities. It is suitable for children aged 4 - 10 years. It is basically the story of Nikolai and his cat Neow Neow who make toys. In fact their toys are so good that Santa comes along to buy some of them.
At the opening screen users are given the option of having the story read to them or 'exploring'. In 'read' mode the program proceeds through the story one page at a time, with a brief animation followed by a narration. As the story is read (in a child's voice) the appropriate words in the text are highlighted. The child narrations work well and are pleasant to listen to, but unfortunately the contrast between text and background on some of the pages is not very great, with the result that some sentences can be quite hard to read. However, the graphics are clear and colourful. The story is quite lengthy ( 11 pages) and this, coupled with the wide variety of animations, makes the product one that younger children will keep coming back to.
In 'explore' mode the user can click and point at various objects in order to activate a variety of animations or games. The animations are quite varied and some of them have excellent sound effects. My daughter's favourites were the skier who races over the rooftops (to the accompaniment of the Batman theme) and a chorus line of cats singing, "There's no better way to pass the day than making more of me" (several more lines follow). There are also a number of games (eg. write a letter to Santa, use the toy machine to create toy cats in a variety of outfits), and educational activities. In the toy shop illustrated in Diagram 4 the user can select toys from the shelf and help Nikolai fill out the bill by calculating subtotals (eg. three dolls @ $4 is $12) and the overall total. There are also educational explanations or games about how snowflakes are formed, the months of the year and temperature scales. In 'explore' mode it is possible to jump around the different pages, and also to replay the narrative of the current page.
There is a small guide book for parents/teachers that provides information on installation and use of the program and that covers the various features quite adequately. There is no online help, although the program is not a complex one and my children worked out most of the features without bothering to ask for help or read the guide book. This is a well presented and very entertaining interactive book for preschool and primary children, and it has a high level of educational value.
System requirements
Windows: 486 or higher running Windows 3.1, 8Mb of RAM , Sound Blaster compatible soundcard, double speed CD-ROM, SVGA graphics, Mouse
Macintosh - L.C.III or better, System 7.1, 8 Mb RAM, double speed CD-ROM, 256 colour monitor, Mouse
Distributor Information
Merisel
Tel: 61 2 936 1156
Fax: 61 2 936 1122
Tech Pacific Australia
Tel: 61 2 697 8552
Fax: 61 2 697 8593
Dataflow
Tel: 61 2 417 9700
Fax: 61 2 417 9797
RRP: $45.00 (each)
---
REVIEW - Encyclopedia of Australia 1996
Encyclopedia of Australia is a multimedia introduction to most aspects of the land and people of Australia, and the information is organised in the twelve main subject areas: States, Territories, Cities, Towns, Parks; Flora and Fauna; Sport; Famous Australians; Aussie Inventions; Art & Entertainment; General History; History Themes; The Environment; Parliaments; Facts and Figures; Odds & Ends. It is a flexible and well presented program, and provides a much more comprehensive coverage of 'Australiana' than any of the American multimedia encyclopedias such as Encarta or World Book.
Diagram 5 is an example of a typical topic screen.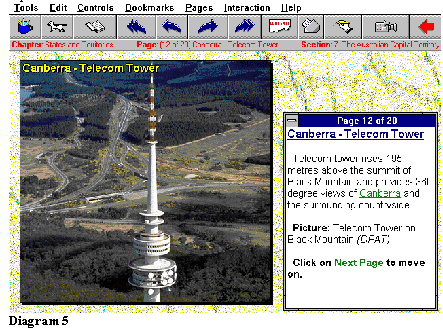 While the text window can be re-positioned and re-sized, the picture window is fixed, although it can be shown full screen or zoomed in on. In fact one can zoom in to multiple levels on any portion of the screen, although there is a significant loss of visual clarity when this is done. By way of example, there are 20 'pages' of information on Canberra, from its foundation through to present day, with a different picture for each page and text that varies from one to ten paragraphs in length. The tool bar includes tools for Options, Search, going forward or back within the current subject, contents page, printing, adding notes and playing videos (where appropriate). The pictures are of good quality throughout the program, and they are supplemented by 92 videos. These are varied and generally of good quality, though they are rather short (up to 20 seconds). They can be shown in a variety of screen sizes.
The search and research tools of this program and powerful and easy to use. Search allows the user to search by word, page (ie. article headings), video, sounds, graph, table, highlight, note or under particular categories such as Famous Australians and Aussie Inventions, or to look for a dictionary entry on any word. If 'word search' is chosen then it is possible to use phonetic word searching, which means that the program will look for entries that sound like the entered term. Once a search process has been carried out the user is given a list of all articles that contain the term - one can then go directly to any of these articles by clicking on them. Disappointingly, one cannot carry out complex searches using Boolean operators such as and, or, not.
Users can add personal notes to articles, bookmark them for future reference, or highlight selections of text in an article (choice of 16 colours). It is also possible for users to create 'libraries' of articles or pages on a particular topic. These can be saved for future reference. One can also load other applications (such as a word processor) from within Encyclopedia of Australia. The printing and copying options are very flexible - one can copy whole articles, selections of text or pictures to the clipboard, and similarly it is possible to print pictures, articles, pages, selections of text and/or user notes. It is also possible to specify printer font from within the program. Finally, the 'history' tool keeps track of all places visited in the current session and allows the user to return to any of them.
Overall this is a very user friendly program, as evidenced by the Options menu, which allows the user to carry out full visual customisation of text, menus, headings and viewing options for pictures and videos. There is no user's manual, but the online help is fairly comprehensive (although it does not include illustrations). It provides a good, general coverage of most aspects of 'Australiana', and is recommended as a useful resource for schools and families with school age children.
System requirements
386DX or higher running Windows 3.1 or Windows 95, 4Mb of RAM, Hard disk, CD-ROM Drive, Windows compatible Soundcard, 256 colour display, Mouse.
Distributor Information
Webster Publishing
Tel: 61 2 9975 1466
Fax: 61 2 452 3493
RRP: $79.00
---
Nick Thomson manages his own business, providing management consultancy and training in such topics as Strategic Planning, Team Building, Client Service, Time Management and Conflict Resolution. He can be contacted on (06) 241 3239.
---

Sixteen Bits Online - April 1996
---