---
MAY 1996
---
The CD-ROM Software Column
by Nick Thomson
This issue features reviews of Logical Journey of the Zoombinis, Pandora's Box and The Great Barrier Reef. Naomi has elected to comment on Logical Journey of the Zoombinis.
---
REVIEW - Logical Journey of the Zoombinis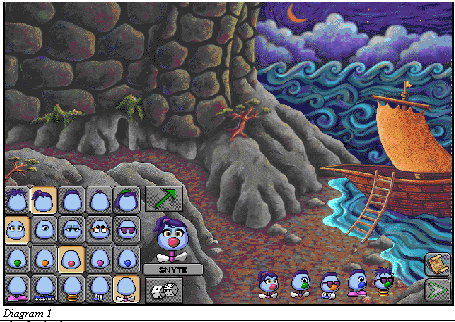 Once upon a time there was a race of small, colourful and happy creatures called Zoombinis who lived on Zoombini Isle making 'small, useful, products that were prized the world over.' These happy creatures enjoyed fulfilment, inner peace and very healthy bank accounts. Alas, this idyllic lifestyle was shattered by the arrival of the Bloats - who promised to help the Zoombinis grow their businesses and improve their quality of life, but who in fact turned out to be evil rascals who ended up stealing profits, taking over Zoombini Isle and enslaving the Zoombinis. Eventually the Zoombinis became so 'stressed out' that they decided to escape and build a new home in a far off land.
The object of this game is to help the Zoombinis cross the difficult and dangerous land and ultimately reach their new home, Zoombiniville, "a place of hope and prosperity". On the way they have to negotiate a variety of difficult and dangerous hazards as Pizza Trolls, the Lion's Lair and the Bubblewonder Abyss. There are twelve of these hazards, and each of them requires the player to solve some sort of logic puzzle. These puzzles are designed to develop math thinking skills such as logic, data sorting, pattern finding and attribute comparison. The quality of sound and graphics is very good in this highly entertaining game designed for eight to twelve year-old children.
After an introductory sequence about the terrible tale of how the Bloats took over Zoombini Isle, one commences the game by creating a band of Zoombinis at the screen shown in Diagram 1. One can create Zoombinis individually or sixteen at one go - but no two of them are exactly alike and they vary with respect to hair, eyes, nose and 'feet'. These attributes form the basis of most of the games that follow, since within your band of sixteen there will be various combinations of attributes. At each game the user has to first work out the 'rules' e.g. red and green noses have to cross via one bridge, while blue and orange noses have to cross by the other bridge.
The rules are generally established by trial and error, and in some games this can be quite tricky. Once the rules have been established then you have to try and get as many of the Zoombinis through the puzzle as possible before your 'mistake option' has been used up e.g. after six incorrect tries the bridge will fall down and those Zoombinis that haven't made it will be left behind. In another game one has to create a 'perfect pizza' for a hungry troll - using a combination of five possi- ble toppings. If there are not enough of the right toppings the troll throws the pizza forwards; if there is something he doesn't like he throws it behind him. When you get the ideal combination he will gobble it down and allow the Zoombinis to pass. Once a full group of Zoombinis has been taken all the way through to the Promised Land (Zoombiniville) they will assemble some sort of building, complete with a plaque celebrating their achievement.
My only complaint about the program is that some of the activities are (in my opinion) too difficult for the lower end of the recommended age group, particularly as the tasks become more difficult with each successive group that is brought through to Zoombiniville. However, teachers would find this game a good one to assign to small groups - it lends itself very well to collective problem solving. In addition, it was interesting to note that my daughter Naomi (see her article Notes), who is fourteen years old and very good at Maths, became totally engrossed in it and spent about three full days of her school holidays playing it.
There is no online help or hints (the latter would have been a useful inclusion for younger players), but there is a very well presented sixty four page User's Guide. It includes detailed information about installation, game play and the various activities. There is also a section on Educational Benefits and Puzzle Solving Strategies designed for teachers and parents. If children are to derive maximum educational benefit from the program, it is essential that parents and teachers read this and then be available to discuss the various puzzles with the children. The program is presented on a hybrid disk, that will play under Windows 3.1, Windows 95 or Macintosh.
System requirements:
Windows:
486 running Windows 3.1 or Windows 95, 8Mb of RAM, 2Mb hard disk space (3 Mb for Windows 95), Windows- compatible Sound Card, double speed CD-ROM Drive, SVGA display with 256 colours, Mouse.
Mac:
68K or Power Macintosh, System 7.01 or higher, 8 Mb RAM, 1 Mb Hard disk, double speed CD-ROM Drive, 13" or larger monitor with 256 Colors, Mouse
Distributor Information:
Dataflow
Tel (02) 417 9700
Fax (02) 417 9797
RRP: $79.95
---
Logical Journey of the Zoombinis
Are you game to save the cute little Zoombinis from a life of slavery?
If so, you must help these cute little creatures travel to their paradise home:
ZOOMBINIVILLE.
Along the way you will encounter Sneezing cliffs, Pizza-eating trolls and even the Zoombini's distant relatives, The 'Fleens.'
I really enjoyed playing Logical Journey of the Zoombinis. It is a really cute game, with some adorable characters. It has great graphics and a really good sound-track. Although the mathematical qualities are rather subtle, it does teach some lessons on such things as patterns and ordering. I found, however, that some of the games were really quite difficult, and I would rate as quite hard for the recommended age of eight to twelve.
Although, as I said, the mathematical quality is not terribly good, it is a very clever and fun game. It also has some great options; for example, by pressing Ctrl G you can increase or decrease the game performance by turning background animations on or off. My younger sister and I spent days playing it and had a great time.
The idea of the game is to lead the Zoombinis through a trail of small games that have some mathematical content. Once you have brought one group of 16 Zoombinis all the way through to Zoombiniville, a few buildings are built there in their commemoration. You can then go back and get more until all of the sixteen possible buildings have been built. Each time you go back the trail gets harder, and in the end becomes very hard.
If you have some elder children that like cute cartoon games like this and want to have some fun and learn a thing or two in the process, I'm sure they will enjoy Logical Journey of the Zoombinis.
I give Logical Journey of the Zoombinis a 5/5 rating because, although the difficulty and the Mathematical quality weren't extremely good, the game itself is very good, with a wonderful story line and some great graphics.
Thanks again for reading.
---
REVIEW - Pandora's Box
This is an interactive storybook about the classic tale from Greek mythology of Pandora's Box. Pandora (or so the story goes) was a woman of exquisite beauty, created by the Gods and blessed with many gifts. Zeus gave her an enchanted box that she was warned never to open, but he also gave her the 'gift' of boundless curiosity. Needless to say, eventually her curiosity overcame her caution and she opened the box - only to unleash a hoard of 'miseries' upon the world. This package re-tells the tale quite well, and it is rated as suitable for children aged six to twelve, although I believe that eleven and twelve year olds would probably only want to play it through once. The supplementary activities are really only suitable for six to eight year olds.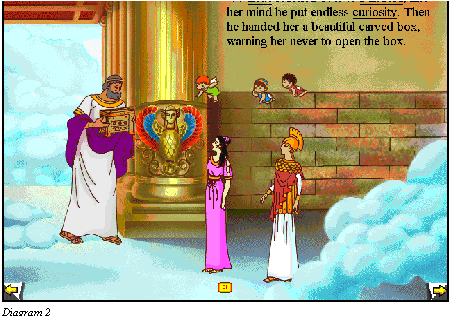 Users can either have the story read to them page by page, or interact with the story i.e. initiate a variety of mini animations on each page. Diagram 2 (right) is an ex- ample of one of the pages. On each new page the accompanying text is narrated, and then (if play option has been chosen) one can point at click at various objects on the page. The quality of sound and graphics is very good, and the package comes with a number of original songs. These vary from a fairly slushy one about 'Beauty' to a rap song about 'misery'. The dialogue is generally quite well presented, although at times it can be a bit laughable. When Hermes presents Pandora to Epimetheus, he takes her tenderly by the hand and says, 'Pandora, let's get to know each other better.' There are 10 pages of story altogether, and with the various extra activities it is a package that will keep youngsters interested for a good while.
One can replay the four songs from the soundtrack, or sing along with them. In the case of the latter option, the words are displayed on the screen while the song is played. My seven year old was very taken with 'Misery' (the rap song) and must have played it through about twenty times. There are two additional activities - Dot to Dot and Color 'n Motion. Dot to Dot provides five dot to dot pictures (up to twenty five dots). When the dots have all been joined the background colours are filled in and the picture can be printed. Color 'n Motion provides five pictures for the user to colour in via a fairly easy 'click and fill' process. The 'motion' of the picture is provided by a miniature screen where the object that you are colouring in (in the main screen) dances up and down or whatever. It acquires the same colours that you give to the object in the main screen. These drawings also can be printed.
There is no online help, but the program comes with a booklet that provides a brief outline of all of the main features. It is a hybrid disk that will run under Windows 95, Windows 3.1 or Macintosh. All in all it is quite an entertaining package, with an engaging story and a variety of interesting animations and activities.
System requirements:
Windows:
486 or higher running Windows 3.1 or Windows 95, 8Mb of RAM, Sound Blaster compatible soundcard, double speed CD- ROM, VGA display with 256 colours, Mouse
Macintosh:
LCIII or better, System 7.1, 8 Mb RAM, double speed CD-ROM, 512x384 monitor with 256 colours, Mouse
Distributor Information:
Tech Pacific Australia
Tel: (02) 697 8552
Fax: (02) 697 8593
Dataflow
Tel: (02) 417 9700
Fax: (02) 417 9797
RRP: $45.00
---
REVIEW - The Great Barrier Reef
The Great Barrier Reef provides a fairly detailed coverage of virtually every aspect of The Great Barrier Reef, one of the natural wonders of the world. The content is organised into sixteen main chapters, including The Reef Today, Vertebrates, Animal Functions, Threats to the Reef, Reef Processes, Dangers/Benefits on the Reef and Directory of Services and Information. Each of these chapters in turn is organised into sections. For example, Threats to the Reef includes Natural Threats and Human Impact. One can select topics from the Contents menu, or look for specific information via the Search process.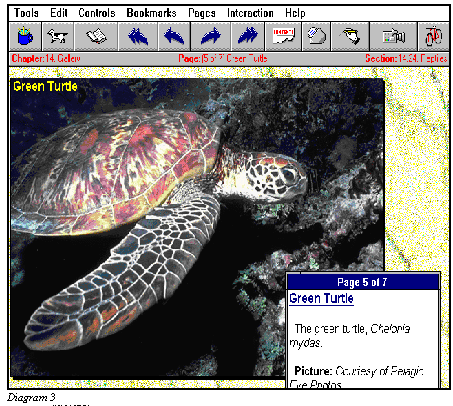 Once a topic has been selected the screen will look something like that dis- played in Diagram 3 (right). Generally, there is a picture or video window and a smaller text window. The text window can be re- sized or positioned anywhere on the screen, but the picture window is fixed, except that it can be displayed full screen. In addition, it is possible to zoom in on the picture. There are seventy one videos, ranging in length from twenty sec to about two minutes. They are generally of good quality, except for the clarity of some of the underwater shots. They can also be shown in a variety of screen sizes. These provide a very good overview of the natural beauty of the reef and its inhabitants and are one of the program highlights. The Search function allows the user to search for Video clips, and I spent an enjoyable hour watching most of them - bringing back memories of a very enjoyable holiday I had on Heron Island many years ago. My only complaint here is that most are quite short, and some of the shorter ones end rather abruptly. The information on most topics is comprehensive, but it is written at a level that upper primary or secondary students could understand.
As mentioned, there is a Search feature. This allows the user to search for words, Pages (i.e. articles), Videos and User notes or highlights. It works quite well, except that one cannot do complex searches with the assistance of Boolean operators such as AND or OR. From a researcher's point of view the program has been very well designed. It is possible to bookmark articles for future reference, create 'libraries' of articles on a particular topic, mark sections of text with various colours of highlighter pen and attach notes to articles. As mentioned above, highlighted text and notes can be relocated via the Search process.
There is no user's guide, but there is an online help feature that provides a comprehensive coverage of all program features. It is illustrated with full colour screen shots. There are also nine tours that cover topics such as Barrier Reef Birdies and Fish Faces.
These could more accurately be described as slide shows, since they step the user through a number of photographs related to the topic, but there is no accompanying narration or text.
Overall this program provides a good introduction to one of Australia's greatest natural assets. For the researcher there is a wide range of topics, in which the level of detail is generally quite high. There are also all sorts of research tools available, and the user can customise the screen layout and presentation to suit personal preferences. For the person with a passing interest the full colour photographs and the wide range of video clips make this program worth having, it's a pity that some of the videos are not a bit longer.
System requirements:
386DX or higher running Windows 3.1 or Windows 95, 4Mb of RAM, Hard disk, CD-ROM Drive, Windows compatible Soundcard, 256 color display, Mouse.
Distributor Information:
Webster Publishing
Tel (02) 975 1466
Fax (06) 452 3493
RRP: $49.00
---
Nick Thomson manages his own business, providing management consultancy and training in such topics as Strategic Planning, Team Building, Career Planning, Job Application Skills and Conflict Resolution. He can be contacted on (06) 241 3239.
---

Sixteen Bits Online - May 1996
---