---
JULY 1996
---
CD-ROM Software
by Nick Thomson
Welcome to the July 1996 issue. This issue features reviews of Sheila Rae the Brave, Undersea Adventure and Multipedia. My 16 year old son Ian makes his first appearance with Ian's insane insights, an 'in your face' review of Dream Machines and Designers.
Sheila Rae the Brave
Sheila Rae the Brave is the latest in the Living Books series from Random House/Broderbund. These were one of the first CD-ROM interactive book series - they remain very popular with their age group (in this case 3-7). The disk is a hybrid one, meaning that it will run under Windows 3.1, Windows 95 or Macintosh. It consists of 12 pages of story, such as that shown in Diagram 1.
The pages are colourful, easy to read, and full of a variety of creative and entertaining animations.
It is the quality of these animations that makes the Living Books so popular with younger readers. In fact, one has the choice of reading the story through, (without any of the animations) or of interacting with it.
There are one or two sentences of text per page, the relevant parts of the text are highlighted as the story is narrated. This text (and the accompanying dialogue) can in fact be played in English or Spanish. As well as the story there is a treasure hunt game, which is quite good fun and easy to play, and a collection of songs that youngsters can sing-along with. The songs are not overly schmaltz, and my 7 year-old particularly enjoyed the cat rap. While the songs do appear in the relevant parts of the story, one can access them from a separate menu and then practice one's singing ability while replaying them (words provided).
A separate hard copy of the book, Sheila Rae the Brave (by Kevin Henkes) is provided, as well as a booklet entitled Beyond the Computer, which includes suggestions for further activities and educational extension.
The program is easy to install and easy to use little instruction required.
Highly recommended.
System requirements:
Windows: 386SX or higher running Windows 3.1 or higher, 4mb of RAM, CD- ROM Drive, Soundblaster compatible Sound card, Super VGA, Mouse.
Macintosh: System 6.0 or later, 4mb RAM, CD-ROM, 256 colour monitor, Mouse.
Distributor Information:
Dataflow
tel: 61 2 417 9700
fax: 61 2 417 9797
rrp: $69.95
---
Undersea Adventure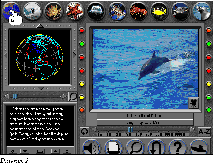 This is an interactive tour of the world of the oceans. A good reference product for 5-10 year old children.
There are five main components;
an undersea encyclopedia,
a 'seacology' lab,
a collection of video clips,
an underwater museum; and
a variety of games.

The undersea encyclopedia is illustrated in Diagram 2.

It includes a text window, a full colour photograph, a globe detailing where the particular creature can be found and but- tons for features, like printing.

For some of the creatures there is a good quality, short (10-30 sec) video. At the top of the screen there are buttons that lead one to categories of information such as crabs or molluscs. The text is narrated, and is quite interesting, through rather superficial in some cases. The only annoying aspect of this part of the program is the background music - it plays continuously and after a while it can start to become irritating. I was unable to find any way to turn it off.

The Seacology lab provides in-depth, 'cutaway information', about 12 marine animals, such as the dolphin and the octopus. The outer layers of the animal can be 'cut away' to reveal the organs, bone structure etc, underneath.

The 3-D museum allows users to 'walk' through a 3-dimensional collection of pictures and objects by moving the mouse. This 'mouse movement' can take some getting used to, but it generally works quite well.

For those who are interested in the video clips they can all be viewed from within the 'Undersea Movie Theatre'. As mentioned above, although these are fairly short, they do make for interesting viewing. All in all, there are about 50 of them.

The three games (Who Am I?, What Do I Eat? and Can You Find Me?) test the knowledge of young users by asking them to undertake activities such as, matching the body part to the appropriate creature, or by clicking on the right picture to identify what the current creature likes to eat. These are quite well presented and are easy to play.

This is an interesting and well presented product for primary school children.

System requirements:
Windows: 486SX or higher running Windows 3.1 or Windows 95 , 8mb of RAM, Double speed CD-ROM Drive, 5mb of Hard Disk, MPC-compatible Sound card, Super VGA, Mouse.
Macintosh: 68040 or Power PC running System 7.0 or later, double speed CD- ROM, 4mb of Hard disk, 13" or larger monitor with 256 colours, Mouse.

Distributor Information:
Dataflow
tel: 61 2 417 9700
fax: 61 2 417 9797
rrp: $69.95
---
Multipedia
This is a mega-collection of 16 reference works on CD-ROM containing:
Merriam-Websters' Word Histories (derivation of 1500 words),
21st Century Dictionary of Slang (classic slang and latest phrases),
Merriam-Websters' Medical Desk Dictionary (30,000 entries),
Colombia University Complete Home Medical Guide (practical medical information for the lay person),
The Hutchinson Dictionary of Science (5,000 entries),
21st Century Dictionary of Computer Terms (3,000 terms),
The Oxford Dictionary of Art (3,000 entries),
The Oxford Dictionary of Music (5,000 biographies plus definitions),
World History: a Dictionary of Important People, Places and Events (10,000 concise descriptions),
The Hutchinson Guide to the World (6.000 geographic entries),
Barron's Dictionary of Finance and Investment Terms (5,000 terms),
Ballentines' Law Dictionary (10,000 legal terms), and
21st Century French/English, Spanish/English, German/English and Italian/English Bilingual Dictionaries (translation in both directions and pronunciation guides).
There are over 100,000 entries, over 100 plus videos and animations and more than 5000 photos. One searches for information from any or all of the above reference works via a reference screen such as that illustrated in Diagram 3.
As can be seen from the diagram there are two windows:
the browser, and
the content windows.
The browser can be re-sized to increase or decrease the amount of space available to the content window. The browser provides six main ways of viewing the information:
index,
media,
search,
book,
subject, and
project.
Index allows one to type in a particular term or phrase, and all entries that match the term/phrase will then be listed. Media organises material by type of media.
Book allows one to page through the contents of one of the reference works.
Subject organises the information into categories such as Business, Computers, Law and Science & Technology.
Search allows the user to search for particular words or phrases anywhere within the text of the various works, and it includes the Boolean operators and, or and but not.
The level of information provided is fairly basic and, in many cases it consists of a one sentence description or definition. Some areas such as medical terms and concepts are covered in greater depth. The foreign language dictionaries are useful for those in search of the meaning of particular words in French, Spanish, German or Italian.
The program is generally quite easy to use, and there is in depth on line help available. All features are also well documented in the 22 page user's guide.
System requirements:
486SX or higher running Windows 3.1 or Windows 95, 8mb of RAM, Double speed CD-ROM Drive & Sound Card, SVGA display, Mouse.
Distributor Information:
Roadshow New Media
tel: 61 2 552 8700
Fax: 61 2 660 8436
rrp: $99.95
---
Check out our new educational and home reference software review service on the Internet. You'll find more in depth reviews of everything I have reviewed in Sixteen Bits plus...
---
Ian's insane insights
G'day, welcome to first review of computer products by Nick Thomson's oldest son Ian.
Although I'm not much of a computer head (like my sister Naomi, eg Naomi's Notes). I will try to bring you some half-decent reviews of products whenever my Dad gets anything half way decent. I will try to bring you reviews of products I think are cool, although it might be in a slightly 'in your face' approach. But, hey, it's a magazine! So have fun and stay tuned.
My first insight is about a product by Beyond 2000 Interactive. (Yes, that's right this is the same company that produces that T.V show about weird and whacky inventions of the future.) It's called Dream Machines and Designers.
I was instantly drawn to this program as soon as it was handed to me. The pictures on the box are sure to attract the attention of any car lover worth their salt and the product inside didn't disappoint.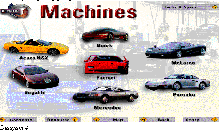 Diagram 4 is a sample. The program is basically an in-depth look at seven of the world's most prestigious car manufacturers: Acura, Bugatti, Buick, Ferrari, McLaren, Mercedes and Porsche. It very thoroughly previews a couple of each company's latest and greatest models and usually takes a look at the people behind these objects of Lust and Desire.
The Introduction sets the scene for the rest of the production. Crystal clear video and audio are beautifully utilised in this program, and this is illustrated from the start with great shots of the cars dreams are made of and some of their amazing capabilities.
The program is divided into the most craved cars in the world, and the whiz kids who designed them. If the user picks the machine's category, they are presented with a screen showing some of the most beautiful cars in the world. You can almost feel your jaw dropping!
Once the reader has selected a car the real fun begins. You are given a few options. One is the story of the car. This deals with the progress of the car from the drawing board to the open road. (Inside this "story" section there are also smaller captions dealing with various things from performance to accessories).
The user can also choose to look at the resource section. This deals with the three principles of design, cost, and the finished product.
But probably the most important thing for all you hard-core rev heads out there is the techs and specs section which tells you seemingly absolutely pointless things like Bore & Stroke, compression ratio, and wheel size. These things seem completely irrelevant to me but, hey, they've got to mean something to someone!.
Another very positive aspect of the program was the continual audio and visual entertainment throughout the show. The movies were sick! Extremely clear, exciting and, most importantly, they were extremely regular!
Another great feature was the ability to have any of the text read out to you if would prefer. (If you're having to much fun to read perhaps!)
The still pictures are just as good, showing the stuff you really want to see (the cars!) and showing them clearly and crisply.
One of my favourite features was the what's in it for me section. This clearly shows you how much the car is going to cost, if it's really worth it and, most importantly, the driving pleasure you will gain from this vehicle.
The dreamers' section focuses on two of the world's greatest ever fast car designers, Breton and Giugiaro. It details their life and work. Even though it was very interesting, it was hard to stay interested when you had cars like this at your fingertips.
There is also an easy to use map that can take you from any place in the program to any other place. This is a particularly handy feature if you're like me and like to skip around a bit.
This program is one of my all time favourites and has jumped to the top of my CD collection (ok so its a pretty small pile, but hey!) and is likely to remain there for quite a while. It was extraordinarily easy to use, which is a major plus if you're a layman like me, and was extremely easy to get into and get the hang of.
It had absolutely stylish graphics with awesome movies and legend still shots. The information was informative, telling you what you wanted to know very simply without all that 'revhead' jargon.
The presentation was excellent with great screen shots the whole way through and unbelievable photos of some of the best cars around.
All in all this was a full on, kick butt product that I have drooled over for the past week, and one that I'm sure anyone who appreciates cars will enjoy.
I'd give it 10/10. My only problem was that they only reviewed about 15 cars. They should have done 50!, Oh, well, no point getting greedy is there.
(ps my favourite car is the McLaren F1, this baby is the fastest road registrable car in the world, 235 mph or 375kph, and has the fastest acceleration in the world, 0-100kph in 3.2 seconds, the only slight drawback is the cost, $1.7 million but, hey, if my journalist's career takes off you never know, but the best bit is that you get a matching luggage kit with this car, including a golf bag YEAH!!!)
System requirements:
486SX or higher running Windows 3.1 or Windows 95, 8mb of RAM, Double speed CD-ROM Drive & Sound Card, SVGA display, Mouse.
Distributor Information:
Roadshow New Media
tel: 61 2 552 8700
Fax: 61 2 660 8436
rrp: $39.95
---
Nick Thomson is one of the partners of EdRev, a Independent Educational Software Review Service that can be found on the Internet at www.echidnahouse.com.au. He can be contacted on (06) 241 3239.
---
Back to July 1996 Index