---
JULY 1996
---
COREL WordPerfect Suite
Reviewed by Peter Tilbrook
Corel WordPerfect Suite 7 for Windows 95 (CDROM Edition), 32-bit office, Graphics and Internet Power
In the beginning there was WordPerfect...
Understandably, many dedicated WordPerfect users were elated to learn that Canadian software developer Corel Corporation were the successful bidders for the WordPerfect range of applications. Corel made the acquisition for a fraction of the price Novell Incorporated paid for WordPerfect Corporation not too long ago.
Corel is well known as the developer of high quality desktop publishing and graphic design applications. While pundits were wary of Corel's ability to produce a suite of applications with the necessary calibre to take on the might of Microsoft Corporation and Lotus Development Corporation most of us were prepared to give them a go.
Corel WordPerfect Suite 7 for Windows 95 is Corel's first attempt at developing applications to directly compete with the other suites currently available for Windows 95, Microsoft Office and Lotus SmartSuite.
Corel WordPerfect Suite 7 at a Glance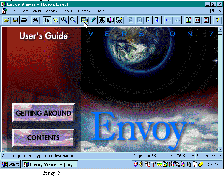 A Perfect Place to Work
Corel WordPerfect Suite 7 redefines the office suite by adding powerful graphics capability and Internet connectivity that fit the way you work - perfectly. You'll discover how to maximise your productivity, get the most out of Windows 95 and put the Internet to work for you. With all this and more, Corel WordPerfect Suite 7 is quite simply one of the smartest, most powerful, most versatile suites you can buy.
Put the Internet to Work for You
Take advantage of the Internet with full connectivity in all core applications (Corel WordPerfect 7, Corel Quattro Pro 7 and Corel Presentations 7).
Convert files to and from Hyper Text Markup Language automatically within core applications.
Link to specific documents on the Web with a single click on a Uniform Resource Location (URL) embedded in your core application documents.
Maximise your Productivity
Be ultra-productive in all core applications with a consistent user interface and common tools such as Speller, Thesaurus, Grammatik and Open Dialogue.
Use QuickTasks cross-application scripts to help you automatically complete entire projects.
Use IBM VoiceType Control with a microphone and your voice to navigate and activate each core applications graphic user interface.
Ask questions in your own words with the Ask The Perfect Expert.
Tie into Lotus Notes with Notes FX support.
View files and transfer them between applications with Quick View Plus.
Make the Most of Windows 95
All 32-bit applications deliver optimum performance.
Let applications do more for you with multi tasking, multi threading and OLE 2.0 in-place editing.
Manage files efficiently with long filename support, QuickFinder indexing and word-form searching.
Find menu options quickly with new tabbed dialog boxes.
Amazing Value!
Wordperfect Suite 7 includes:
Corel WordPerfect 7 (word processor)
Corel Quattro Pro 7 (spreadsheet)
Corel Presentations 7 (presentations)
CorelFLOW 3 (high impact business graphics)
COREL WordPerfect 7
Sidekick 95 (an innovative personal Organiser)
Corel WordPerfect 7
Dashboard 95 (maximises personal productivity)
Quick View Plus (view over 200 document formats)
Envoy 7 (electronic document publisher)
Top quality fonts
Over 10,000 Clipart images
Corel WordPerfect 7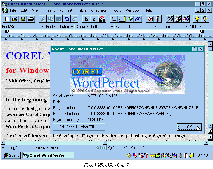 Corel WordPerfect 7's innovative new features and Internet capabilities continue to make it the word processor of choice.

NEW Internet connectivity - link any text directly to an Internet file or bookmark; convert Web files directly to Corel WordPerfect ready for use.

NEW Guidelines - change margins and columns directly on your page.

NEW QuickSpots - one-click access to formatting options and attributes for paragraphs, table cells and graphics.

NEW Spell-As-You-Go - underlines that words that might be misspelled so you can correct them as you type.

NEW QuickFonts - shows the last 10 fonts you've used, exactly the way they look in your documents.

NEW Shadow cursor - shows you where your cursor is going before you click.

Grammatik - a grammar checker that rewrites even more sentences with the click of a mouse.

Internet Publisher - more built-in power to automatically create and edit Web documents.

Make it Fit - shrinks or expands a document, allowing you to control which formatting features are changed.

QuickFormat - copy a specific formatting style to an entire document.

QuickCorrect and Format-As-You-Go - create error-free documents that are polished and professional.

QuickFinder technology - search for and retrieve files instantly.
Corel Quattro Pro 7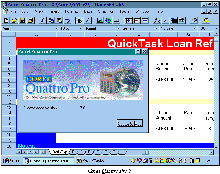 Connect to the Internet and make your numbers count with Corel Quattro Pro 7. Analysing and presenting data is now incredibly intuitive.

NEW Internet connectivity - link any cell to an Internet file - Web, FTP, HTTP or Gopher and receive updates of stock quotes, exchange rates and more.

NEW Internet publishing - publish any Corel Quattro Pro 7 Notebook as an Hyper Text Markup Language file.

NEW @functions - more than 100 new ones for nearly 500 in total - to give you even more analytical power.

NEW QuickFill - fills in sequential or repetitive data instantly, and even handles bi-directional and discontinuous ranges.

NEW Right mouse button support throughout for fast access to formatting options.

NEW Chart Styles - now 50 styles to choose from to make charting even faster.

Enhanced Formula Composer - sets up formulas quickly and accurately.

QuickTemplates - prepares great looking spreadsheets with 30 pre-formatted templates.
Corel Presentations 7
Corel Presentations 7 will put the Internet to work for you and help you quickly create effective presentations with less effort.

NEW ActionLinks - move from a slide to an Internet site or to other slides with a single click for convenient information access

. NEW Convert slide shows to Hyper Text Markup Language format for fast, easy publication on the Internet.

NEW Object and bullet animation - gives your slides added pizzazz.

NEW Transition effects - apply your choice of more than 50 effects including Fade, Roll and Spiral Away to text, graphics and slides.

File import - from Microsoft PowerPoint, Lotus Freelance Graphics and Harvard Graphics files.

Build slide shows directly from your Corel WordPerfect, Microsoft Word or Lotus Ami Pro outlines.

Versatility - apply multiple backgrounds, graphics, text, video and sound within one presentation.

WordPerfect loyalists, expecting a suitable reward for their patience, will receive long overdue Windows 95 features such as multi tasking, long file names, tabbed dialog boxes, and OLE2 support. The four main areas where Corel WordPerfect Suite 7 leapfrogs Microsoft Office and Lotus SmartSuite are in Internet integration, file management, graphics and cross- application tools. I predict that Microsoft and Lotus will close the gap in the near future.

Corel has reinforced the suite's role as an Internet-access and document- publishing platform.

Internet Publisher - previously an add-in to WordPerfect 6.1 - will convert files to and from HyperText Markup Language format. You can directly access Netscape from within the three Internet- enabled modules - WordPerfect, Quattro Pro and Presentations. Although the version of Netscape supplied with the suite had expired and as such was virtually useless. Thankfully I already had Netscape installed previously.

Besides serving as a World Wide Web browser, Netscape also hot-links directly to the Web with a single click on Uniform Resource Locators embedded in a document. Another useful feature is called Corel QuickConnect.

This useful applet can be launched from the Taskbar and remembers sites that you visit on the Internet. Accessing these sites is as easy as clicking on the URL description.

Aside from expanded Internet integration, another area where Corel WordPerfect Suite 7 eclipses the competition is in file management. Corel's suite sports a redesigned file manager with integrated file searching with QuickFind. Previewing files is a breeze with Quick View Plus - a file previewer that supports more than 200 of the most common file formats. The viewer works fast, opening most files in a mere heartbeat.

Speaking of heartbeats, at the heart of Corel WordPerfect Suite 7 is DAD (the Desktop Application Director). In it's latest incarnation, which is different again from the two previous betas of the suite I previewed), DAD is now integrated into the Taskbar system tray. This allows one click launching and drag-and-drop access to the major suite products.

Another ease-of-use aid is the natural language help query, PerfectExpert. With the PerfectExpert you ask questions in your language like "How do I insert a table in Word Processor?" or "How do create a HTML document?. PerfectExpert will respond with a series of help topics for you to choose from. Additionally PerfectExpert can actually show you how to perform a task (formerly Coaches) or, for the impatient, actually have PerfectExpert complete the task for you (see QuickTasks below).

Corel WordPerfect Suite 7 establishes new ease-of-use standards with its introduction of Guidelines and QuickSpots. Guideline, a popular desktop publishing feature, uses unobtrusive blue dotted lines to visually display a document's margins, tabs, or column settings. To change a setting, drag and drop the line to a new location.

Users will find this technique much easier to use than dragging triangles along a ruler. Enhanced formatting such as indents are also easily accomplished in this manner.

Other well conceived time-savers include QuickSpot graphical buttons that appear and disappear as your mouse moves over a block of text. The buttons provide a list of formatting options for paragraphs, graphics, tables, and columns that surpass those available with a right mouse click.

Whilst not as comprehensive as the InfoBox technology utilised in Lotus SmartSuite this is a useful time-saving feature.

Other improvements match those found in Word 7, such as Spell-As-You-Go, a tool that highlights misspellings as you type. Format-As-You-Go corrects formatting and typographical errors. QuickCorrect changes the case of a word if you accidentally hit Caps Lock (if you type wIN, QuickCorrect changes it to Win). QuickCorrect can also replace abbreviations with their full meaning rather than having to type in a long line of text. For example I've setup an abbreviation called "CW7" (short for Corel WordPerfect Suite 7). Rather than having to type the full description I merely have to type CW7 and WordPerfect will automatically expand the abbreviation to Corel WordPerfect Suite 7.

QuickTasks, which are interactive macros similar to Microsoft's wizards, run across all of the suite's modules. Whilst there are many included you can also build your own with PerfectScript scripting language. QuickTasks can perform a variety of tasks for you and are initially categorised as follows:
All (all available QuickTasks)
Correspondence (create letters, faxes, mailing labels, etc)
Favourites (your favourite or most commonly used QuickTasks)
Financial (create a balance sheet, expense report or invoice, etc)
Internet (create Web page, read Web page, etc)
Organise (create Address list, organisation chart, etc)
Publishing (create Business Card, Certificate, Exam, etc) and finally Utilities.
You also have the ability to add categories of your own, for example QuickTasks you've designed for a particular project.
Quattro Pro receives some new features, including integrated mapping tools for analysing and displaying geographic information, built-in Internet access, and a variety of automated features.
Enhanced graphics capability lets it import and display JPEG and WPG images.
Presentations would have to be the best application of it's type I have ever used. Along with it's Internet connectivity (you can publish entire slide shows directly to the Web) Presentations allows you to use multiple background - the competition restrict you to one background per slide show).
The animation and transition effects are the most comprehensive you will find anywhere. Hours can be spent just playing around and experimenting with the graphics, animations and sound effects.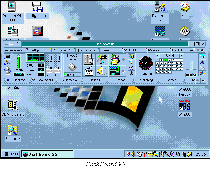 Summary - Corel WordPerfect Suite 7
Corel will succeed at satisfying the core of loyal WordPerfect users. In its re- release of what had been PerfectOffice, Corel kept what worked, reinforced the weak spots, and added new applications to eliminate and surpass the feature gap with Microsoft Office and Lotus SmartSuite.

Performance is very good as is application stability. The in-place editing of OLE objects is a welcome feature and allows changes made in one application to be immediately mirrored in another - fast.

Pros - Strong integration between modules; an encyclopedic feature set including Internet connectivity that's slick enough to slide uphill; excellent file management. Excellent value for money.

Cons - Marketplace realities. Corel faces an uphill run to regain ground lost to Microsoft and Lotus as Novell searched for a buyer.

Price
$199.00
($299.00 for the Professional version).

Availability
Available now.

Media
CD-ROM

Operating System
Microsoft Windows 95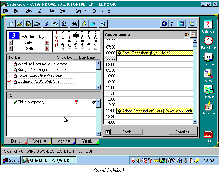 Minimum System Requirements

PC 486/25 processor, 486/66 recommended
Microsoft Windows 95
CD-ROM drive, 2x recommended
8 MB RAM, 16 MB recommended
VGA monitor
Mouse or tablet
30 MB - 220 MB hard disk space required depending on configuration
Corel WordPerfect Suite 7 for Windows 95 works with virtually any network server, including Novell Netware, Windows for Workgroups, Windows NT, Banyan Vines and LAN Server.
Installation Options
Typical
Performs a standard installation.
Default size: 123.58 MB
Compact
Performs a minimum installation (for laptops or low disk space configurations).
Default size: 53.87 MB
Custom
Lets you choose which components to install.
Default size: 129.45 MB
Run from CD-ROM
Installs files to your hard disk that let you run the application from the CD-ROM (runs slower).
Default size: 9.59 MB
Note: the additional applications and accessories (Dashboard 95, Sidekick 95, clipart, etc) consume up to an additional 60 MB.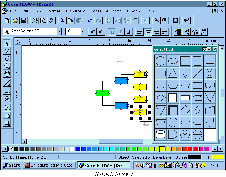 Attention Upgraders!
You are entitled to purchase the upgrade version of Corel WordPerfect Suite 7 for Windows 95 if you own any of the following software products:
CorelDRAW 6
Corel Ventura 7
Corel Office Professional for Windows 3.1x
Corel WordPerfect Suite for Windows 3.1x
Corel Quattro Pro 6.0 or 7
Corel Presentations 3.0 or 7
Any word processor, spreadsheet or office suite (standard or professional) from Microsoft, Lotus, Novell or Borland.
---
Corel Corporation can be contacted in Australia on 1800-645-650, by fax on (02) 9905 6870 or email at info@micromatch.com.au.
---
Back to July 1996 Index