---
AUGUST 1996
---
CD-ROM Software
by Nick Thomson

Welcome to the August 1996 issue. This issue features reviews of Totally Gorgeous and Inside the Vatican , and a review of SIMIsle by Naomi.
---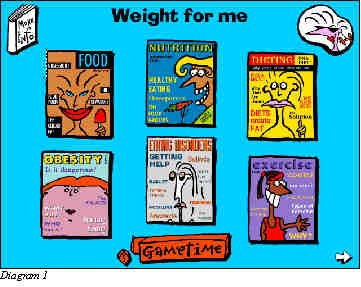 Totally Gorgeous
This excellent product from Film Australia is a hilarious and helpful look at body image for modern girls and guys (especially the former). It features updated text from Kaz Cooke's best selling book, Real Gorgeous - The Truth About Body and Beauty, cartoons from Kaz Cooke (one of the highlights) and a 10 minute film, 'Gorgeous', starring Hermoine the Modern Girl.

The program has six main sections: Shapes and Sizes (physical development & some serious facts about 'normal' size and shape); Weight for Me (food, nutrition and eating disorders such as anorexia and bulimia, and exercise); What is Normal?(breasts, thighs, skin and those other body parts); Fashion Victims (an honest look at fashions, styles and the lure of advertising); Hyper Hype (cosmetics, lotions, hair and beauty myths); You are not Your Buttocks (general information on body image, self esteem and how to deal with the 'body police').

As illustrated in Diagram 1, each of these sections is divided into three or more chapters. The chapters are presented as magazines - and within each one there is a mixture of text, cartoons and some serious statistics. For example, "A study of women aged 14 to 25 conducted at Sydney University in 1983 found that 20 to 30 per cent were bulimic or anorexic, the majority of them bulimic." Kaz Cooke's writing style is witty and engaging, and taken in combination of her cartoons (long one of my favourites) the result is a product that does a very good job of addressing some serious issues in a manner that adolescents can relate to and understand.

Each section includes a game - within Weight For Me there is The Weight Game. Here you get to see animations of what happens to the body's of Hermoine or Dooley when they follow one of four diet options: Junk Food and No Exercise, Eating Disorders, Diets, Good Food & Exercise. As well as being amusing it is quite serious - did you know that the long term effect of continual short term dieting is often an increase in body fat?

The film, 'Gorgeous' is about a day in the life of Hermoine, the modern girl and her battles with self image and her conscience. Although it can only be viewed small screen it is well presented and very entertaining. There is also More Info.; a database that includes further reading, an index of all topics and a list of relevant contact groups; and Teaching Notes, which contain lots of suggestions for teachers and are subdivided into Upper Primary, Lower Secondary and Upper Secondary sections.

All in all this is an excellent presentation of a difficult topic, and it is highly recommended. There is no user's manual, but there is an online help facility that provides a brief outline of how to use and move around the program. My only criticism is that the installation process is not explained properly in the accompanying notes - instead of running the program from File Manager (as suggested) one selects File Run and then types x:\setup (where x is the letter of your CD-ROM drive).
System requirements:

Windows: 386 or higher running Windows 3.1, 8Mb of RAM, Double speed CD-ROM Drive, Soundcard, 640x480 graphics resolution with 8-bit colour, Mouse.

Macintosh: System 7.01 or later, 8 Mb RAM, double speed CD-ROM, 640x480 graphics resolution with 8-bit colour, Mouse.
Distributor Information:

Dataflow
Tel (02) 417 9700
Fax (02) 417 9797
RRP: $59.95
---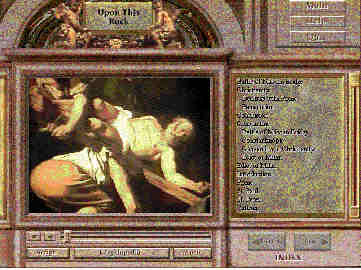 Inside the Vatican
Inside the Vatican is a multimedia introduction to the Vatican and the history of the Roman Catholic Church. It is adapted from the TV series of the same name, and contains six lengthy episodes from the series. It also includes sections an Encyclopedia, a brief video on the Vatican Archives, and sections on Art and Music. The six episodes are:
Upon This Rock (The Early Church, Constantine, St.Peter and St.Paul, founding of the Vatican)
Visions of Glory (Gregory the Great, St. Augustine, Charlemagne)
The Flight From Rome (Medieval pa- pacies, St. Francis, St. Catherine)
The Renaissance (Pope Alexander VI, Renaissance art, Savonarola)
Changing Consciousness(The Inquisition, Martin Luther, Reformation and Counter-Reformation)
The Third Milennium (Popes of the 20th century, Hitler and Mussolini, Second Vatican Council)
Each episode contains a full 20 minutes of video, hosted by the famous Sir Peter Ustinov. The videos include footage of the Vatican, various historical sites around Europe and Asia, and 'interviews' with resurrected historical personages such as Martin Luther and Charlemagne. The combination of Peter Ustinov's engaging narration, good quality video (not full screen) and the well acted historical characters makes for a fascinating insight into the life and times of the Roman Catholic Church. Diagram 2 is a sample screen layout.
The package also contains an abridged version of The Oxford Dictionary of the Christian Church. This includes 1677 pages on all aspects of the history of the church, but disappointingly there is no index. The Art Lobby features over 100 classic works of art by artists such as Michelangelo, Raphael, Giotto and Caravaggio. They are displayed as thumbnail images within 5 museum collections. If one clicks on any of the thumbnail pictures then the art work will be displayed in a larger view. While this is an interesting sampling of Renaissance art, the display quality is a little disappointing. Music provides the recordings of 13 classical hymns such as Gloria In Excelsis Deo and Benedictus, sung by the ensemble Sina Nomine from the Pontifical Institute of Mediaeval Studies in Toronto, Canada. The audio quality of these is quite good, but one cannot play the disk on an audio hifi system.
All in all this is a most interesting package. Despite the fact that it includes over 2 hours of video it is relatively undemanding of system resources. My only criticism is the relatively dark colours used in the various screen windows - the text in the Index window can be hard to read at times. There is an 11 page User's Guide and context sensitive online help.
System requirements:

486SX running Windows 3.1 or Windows 95, 4Mb of RAM , Hard disk, Soundblaster compatible 8 bit Sound Card, Double speed CD-ROM Drive, SVGA display, Mouse
Distributor Information:

Roadshow New Media
Tel (02) 552 8700
Fax (02) 660 8436
RRP: $65.00
---
NAOMI'S NOTES - SIMIsle
Hi! I havenít written in a while, but Iím sure you all really enjoyed ĎIanís Insane Insightsí!! surely not as much as Naomiís Notes but hopefully you got some enjoyment out of it!!!

This time I decided to review SimIsle. Itís another game in the line of SIM games (Simcity, SimTown and so on.) I found SimIsle wasnít quite as enjoyable or easy to play as most of the other SIM games. The game play was quite difficult, even after going through the tutorial step by step. SimIsle was, however quite well presented with good ideas and graphics, but the game play as I said let me down a little.

Basically in SimIsle you start by choosing an island (one of which is the tutorial). Each island has a different task that you need to complete within a set time, for example find a rare animal, make an animal reserve and so on. You have a group of agents under your control, each specialising in different things. To achieve something at a certain place (eg train a bunch of villagers) the correct agents must be located there before you can set to work. It was occasionally a little hard to find the right agents for the right job. Another aspect I found difficult was if you wish to build a hotel, factory, sawmill and so on, you must place a jeep (containing an agent) in a place where it is suitable to build the building you wish to build. For some buildings such as hotels I found it very difficult to build them, considering the jeep had to be in the EXACT place where you were allowed to construct a hotel or the hotel option would not be available.

After lots of screaming and cursing I finally managed to place the hotel, but it was not easy.

This game is definitely a little more advanced than others such as SimTown The game can be very enjoyable in some cases, however, and is quite a respectable game.

I decided to give SimIsle a 3.5/5 rating. The ideas, music and graphics were quite good, whereas the game play was enjoyable and very interesting, yet some aspects I concluded to be reasonably difficult. If you enjoy a challenge and have enjoyed SIM games in the past then this oneís worth a try. Thanks for reading

Nickís Note- Because SIMIsle insists on using every available bit of my 8Mb of RAM, I was not able to take a screen clip - sorry about that.
System Requirements:

DOS: 486 or higher running DOS 5.0 or higher, 8Mb of RAM ,5MB hard disk, double speed CD-ROM Drive, SVGA display, Mouse.
Distributor Information:

Electronic Arts
Tel: (02) 9911 3322
Fax (02) 427 0806
RRP: $39.95
---
Nick Thomson is one of the partners of EdRev, a Independent Educational Software Review Service that can be found on the Internet at http://www.echidnahouse.com.au. He can be contacted on (06) 241 3239.
Nick writes:"Just a reminder that you will find more in depth reviews of everything I have reviewed in 16 Bits plus quite a few others on EdRev - check it out at http://www.echidnahouse.com.au".
---
Back to Aug 1996 Index