---
AUGUST 1996
---
Digital Video Producer
Reviewed by Lis Shelley
Version: 3.5
Released: 1995
Supplier: Asymetrix
Distributor: Multimedia Asia Pacific
RRP: A$149
More info: http://www.asymetrix.com/marketplace/
Digital Video Producer (DVP) is marketed as "Drag and Drop Desktop Video Editing". Designed to produce video clips for presentations, multimedia applications or other online material, DVP can also produce sound, animation or bitmap files for use in other applications. Advanced techniques allow you to create video clips with split screens and insets, animated titles, video overlays and transparent logos.
DVP has two components: DVP Video Producer and Video Capture. The latter is only useful if you have a video capture card in your PC and is not needed at all if you only want to create projects based on existing video, audio, bitmap or animation files. For bitmap editing, Video Producer comes with a tool called BitEdit.
Installation
There are several options for installing off the single CD-ROM - I chose to install the minimum number of files on the test machine, so most of DVP was running off a CD-ROM on another PC connected via TCPIP. The install program followed the standard Windows setup routine. However, at the end of the install, the dialogue to select the type of installation reappeared, with the option to Quit visible. Choosing "Quit" finished the process, but one has to ask why it didn't just finish by itself.
Creating a Project
To create a video, you first create a project into which you place all the components.
The steps involved are then as follows:
Select media files and add them to your project
Preview and mark clip(s)
Place media on the Timeline
Add special effects
Adjust colour palettes
Preview the video
Build the video
Save the project
Import file formats supported include AVI, BMP, DIB, FLC, FLI, GIF, PCX, TGA, TIF and WAV files. The files appear as objects in the Media Window (see Diagram 1) from where you can drag and drop them to other windows.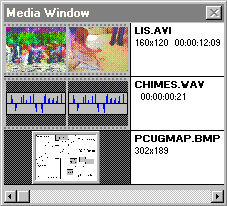 To preview a clip, you drag and drop it on one of two Player windows. (see Diagram 2). The Player window has all the controls you would expect on your video or cassette player, plus some special editing controls. These include buttons to move one frame backward or forward, and some special buttons to "mark in" and "mark out" - ie indicate where you want to start and finish the clip in your project. In the example shown in Diagram 2, The "mark in" frame is set to 184, and the "mark out" frame to 188 (ie only 5 frames out of a total of 189 will be used in my project). You can choose to play video only, sound only or video and sound together. The same Player window is used to view bitmap files.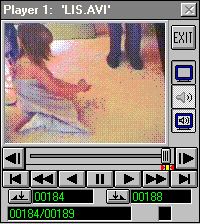 Once you have played or viewed your media clips, you can drag and drop them onto the Timeline. The Timeline scale can show numbers of frames or seconds. Zoom buttons allow you to change the visible range on the screen. The Timeline has 6 tracks - 2 video, 2 audio, a transitional track (for adding effects between video tracks) and an overlay track (for adding images or titles). You can choose to see all tracks at once, or work on a single track at a time. An example of a Timeline is shown in Diagram 3.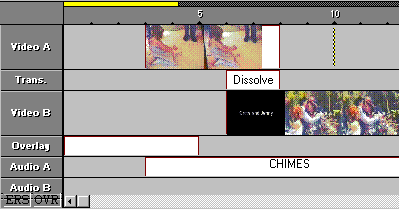 Sound
You can choose a variety of audio effects, and the start and finish levels of a sound clip, as shown in Diagram 4. This example shows a WAV clip that dimin- ishes as it plays. However, it only offers "straight line" variations; you can't for example get louder and then softer in the same section. Presumably you could split a clip and apply two different effects to get around this limitation.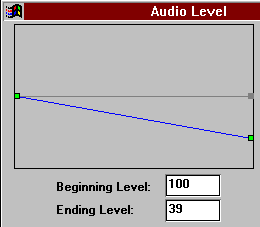 Filters
There are some 15 different filters you can apply to your video clips, including embossing, tiling, colour balancing, rippling and fading to black/white. Most of these filters have several options (eg you can specify how many rows and columns in your tile effect), and you can combine several filters to come up with a truly amazing array of effects. There is a preview available so you can try out your filter selection before applying it.
There are also 15 transition effects - ways of fading from one video clip into the next. These include dissolve, wipe, clock, iris, band slide-in and blizzard. Again, numerous options extend the range of possibilities. Only one transition effect can be used at a time, however this is not really a limitation; it is possible to go overboard with effects!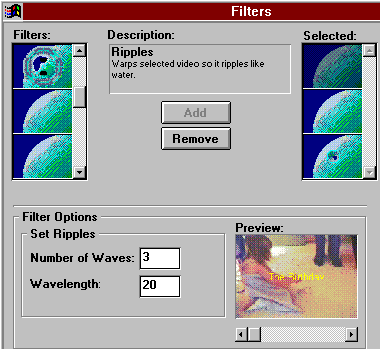 Titles
Creating titles that preface, or appear transparently over a clip are very easy to create. You can specify font style, size, script and colour, though whatever you choose will be applied to the whole title (you can't bold just one word in the title). You can specify the start frame, end frame and total frames for which the title will be displayed.
Editing Colour Palettes
One of the common problems with 8- bit video used in PC presentations is palette shift. To avoid the flashes of colour you sometimes get when starting up or changing clips, you can optimise the palette for your video project. DVP allows you to create a palette based on the colours that are in your video, and you can import palettes that include background colours you might be using in your own application or presentations. Being able to edit the palette results in a much smoother final product.
Previewing
You can preview your video a frame at a time using the Preview option. This is different to the Player function; the Preview window combines all of the elements you have put together in the Timeline and replays them - for this reason, it does not play at normal speed, but is useful for checking your editing skills and fine-tuning the product. You can start at any frame, play and pause using this function.
Building the video
This is the last step in the process and will take some time, depending on your PC's capabilities, the number of files that make up your project and the output options you have selected. You can add a title and a description to your video, and opt to compress all the components and warn on any data failures. You can choose to output to AVI, WAV FLC, FLI, BMP, DIB, PCX, TGA, TIF or GIF formats. You can select frame sizes between 160x120 to , 8, 16 or 24 bit colour depth, frames per second, padding output video for CDROM playback, and audio options include mono/stereo, 8 or 16 bit sample size, 11.025, 22.05 or 44.1 kHz frequency and how to interleave the audio.
Capturing Video
Although this would probably be the first step in the process, I have left it until last as it is only of interest to those who want to create video files from video tape or laserdisc and who have a video capture card (such as a VideoBlaster) and equipment capable of producing a reasonably high quality signal.
DVP Capture has some good self- preservation features for the novice: you can allocate file space ahead of time (which prevents you from filling your entire disk with digital video files!), a capture time limit and some automatic quality options.
Supported video formats are Intel Indeo Video 3.2 and Intel Indeo Video Raw. Video 3.2 gives you three resolutions (160x120, 240x180 and 320x420 pixels), and allows you to select the frequency of key frames. An automatic quality setting lets you choose a setting on a sliding scale between best quality and best compression. Video Raw format gives you the choice of nine resolutions between 128x96 and 640x480 pixels.
Video Source, Video Display and Video Format settings will present you with the options that are supported by your video capture card. If your video capture card supports 8-bit video, you can also load and save colour palettes.
General Capture Settings allow you choose the frame rate (15 frames per second is the default), capture to memory or disk and choose which mouse button to use to end the capture. If you are using an MCI capable device, you can control the device from the DVP capture application. You can also specify compression settings.
To capture video, you can choose from Single Frame or Frames capture (which creates one or more bitmaps) or Video, which captures motion video in AVI format.
A preview window lets you view the video source as it plays - you can then use your mouse to start and end the capture. This was the only time I really needed to have a faster setup - I found it hard to hit the right starting point for motion video capture - my machine took a few seconds to get itself into capture mode, by which time the critical moment had passed!
Diagram 6 shows the DVP Capture tool with a video preview window in operation.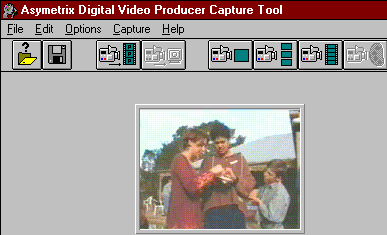 Performance
A key decision when creating video clips is how much disk space your video clip will consume. Generally, it will be a trade-off between quality and size. For example, a 9 second clip in a 160x120 pixel frame at 24 frames per second consumed approx 1.4Mb uncompressed. This reduced to about 0.6Mb in the final cut with compression, so if you're thinking of transferring your entire Queensland holiday to disk, you'd best invest in some serious hardware.
In spite of the legacy of running on another PC, and having only 20Mb free space on the test PC, the application performed quite adequately - running the application locally would no doubt have made it run much quicker. Let's face it: video production under Windows on a PC needs lots of disk space and lots of memory to do properly. You can dabble with the minimum requirements in place, but if you want to get serious, your machine has to be up to it (see System Requirements at the end of this article).
Support
The 124-page User Manual not only provides information about the product, it also provides some very useful information about digital video in general and includes a glossary at the beginning of each chapter as well as at the end of the book. It also has a very good index. Importantly, it explains in lay terms the various combinations of frame rate (number of frames per second), frame size, colour depth and compression and the result of these combinations.
Online help provides a variety of ways to find the information you need. Step by Step Procedures list all of the things you can do and how to do them, from "Adding and editing titles" to "Sending your video to someone". The online glossary should be read in addition to the manual glossary as the coverage is different. Menu commands list all the functions available on the menu and a See Also button refers to related Step-by-Step procedures. Maps of screen elements allows you to point to an element in a screen picture to find out what it does. I found this useful for working out what the tool- bar button did, as tool tips have not been implemented. There is also a tutorial section, which follows a typical sequence of events in creating a video. Context sensitive (Point & Click) help is also provided, which is useful when you're learning the screen layout.
Technical Support information provides a list of phone and fax numbers as well as Asymetrix BBS and email addresses, for when you really get stuck. Fortunately I did not need to use these.
System Requirements
Minimum (recommended in brackets):
386/33 PC (486DX/33)
8Mb RAM (16Mb or more)
8 bit/256 colours (24-bit/16 million colours)
5Mb disk space (additional for other utilities/clips)
Windows compatible mouse
1.44Mb disk drive (Windows- compatible double-speed CD ROM or better)
MS-DOS 5.0, Windows 3.1 (drivers for Windows95 are available from the Web)
Note: If you plan on running the application on a laptop, your monitor must be capable of displaying more than 16 shades of grey.
Optional:
Video capture card to support Microsoft Video for Windows drivers (only if running DVP capture)
Windows-compatible Sound card (if editing audio files)
Test machine:
Digital Video Producer was reviewed on a 486/50 PC with 16Mb RAM, a VideoBlaster RT300 video card, Tseng Labs ET4000 video card and 20Mb free disk space under Windows95.
Overall Recommendation
Digital Video Producer is a good entry level piece of software for people who want to get started on editing and building video clips. If you also want to capture video (and have the hardware to do it) from a VCR or camera, you have the tools to obtain quite good results without much fuss. The comprehensive help and user guide are a real bonus. Once you have run through the online tutorial, the application's functions and layout are very easy to follow. The buttons are sensibly laid out and icons are mostly intuitive.
A true videophile may find DVP's limitations outweigh its ease of use, but can have a lot of fun in the meantime!
---
Back to Aug 1996 Index