---
AUGUST 1996
---
Software Library News
by Phil Trudinger
The files described here can be found on the July 1996 CD-ROM, (PsL Vol 4, #7) currently on the Bulletin Board: all are ZIP files. Just quote the month or Vol/#.
Michael Phillips provides a file list for each CD-ROM in Area 1 of the BBS. I will no longer upload the EXE versions of the catalogues to this area. Those who would like copies of the EXE files should contact me or Nikolaj Komnacki (see Member Services in Sixteen Bits).
Reminder: Most CD-ROM programs are Shareware. A reasonable time (generally one month) is allowed for evaluation, but if you continue to use a program beyond this time you should comply with the author's conditions that usually require payment of a registration fee. Bear in mind that this is the only way by which an author receives any reward for his/her efforts. All registration fees are US dollars.
---
NEW AND UPDATED WINDOWS PROGRAMS
(An asterisk denotes Windows 95 specificity or compatibility)
General
ALM35D* Almanac for Windows (32-bit) 3.5d is a powerful calendar package for Win95/NT that provides separate, configurable windows for your calendar, daily schedule, to-do list, phonebook, and/or notes. It calculates recurring events, sun- rise/sunset times, moon phases, Julian Day, and Calendar Week. (Reg.Fee: $40- $60)
ANYLABEL AnyLabel for Windows 1.04 is a powerful WYSIWYG label design package. Features include over 1700 predefined label formats, support for all standard bar code types, support for 21 different graphic formats, and TWAIN scanner support. You can import data from dBASE, Clipper, FoxPro, CardFile, and ASCII text files. (Reg.Fee: ($59)
BIGSTUPE The Big Stupid is a unique joke book for Windows filled with one-liners, quips, quotes, outrageous true facts, and much more. (Reg.Fee: $10)
EVENT1_A+ The Ultimate Event Planner 1.0 assists you in planning important events of any size, for personal or business use. You can have any number of events in progress, such as weddings, banquets, dinner parties, conventions, etc. The program allows you to enter detailed information regarding virtually all aspects of the event, including budgets, costs, deadlines, seating arrangements, guest lists, entertainment, etc. Other features include envelope and label printing, a calendar display, invitation printing, and a lot more. (Reg.Fee: $33)
POSTER30* The Poster Program 3.0 allows you to easily generate large posters, signs, and banners in Windows. Text and graphics can be enlarged up to 9 feet by 9 feet, with automatic scaling and tiling over multiple pages. Several sample graphic files are included. Supports Windows 95, NT, and Windows for Workgroups. (Reg.Fee: $14)
REMIND Reminders for Windows 1.7 provides a simple means of creating on-screen reminders for important events. Event reminders are triggered when the specified time and date occurs, and can be created to trigger messages on a daily, weekly, monthly or annual basis. (Reg.Fee: $0)
Communications
FANFAX11 FancyFax 1.10 prints fancy fax cover sheets with any bitmap picture, even colour bitmaps. You can use any Windows fonts, even different fonts for each cover sheet section. Other features include the ability to fax a cover sheet from within FancyFax using your FaxModem to send an "instant" one-page fax message, a built-in database that saves your To/From lists, multiple cover sheet styles, and sample clip art. (Reg.Fee: $20)
FAX_V506* FaxMail for Windows 5.06 adds faxing capabilities to all WIN31 applications. Features include an auto-print on receive option, background operation, custom cover pages, a fast fax viewer, timed sends, logging of all past and future fax events, and much more. The Win95 version is FAX_N103. (Reg.Fee: $25+)
HOW2LINK How2link.HTM contains a sample HTML file that illustrates how to allow users to download files from your homepage. (Reg.Fee: $0)
NETPOPU2* NetPopup 2.12 is a Win95/NT Winsock utility for sending notes over the Internet in real time. It has a built-in finger daemon which is used to serve normal finger-queries and a seek utility for tracking your friends from dynamic IP-addresses. This can be useful for sending messages when email is too slow. (Reg.Fee: $10)
OLTIME25 Online Time 2.5 helps keep track of the amount of time you spend using online services. It allows you to keep a handle on "per minute" and "extended" charges. You can compare your bill against the session times saved in its log file. (Reg.Fee: $20)
ROBEDIT Rob's Excellent Web Authoring Tool 1.0 is a HTML editor for Windows that supports HTML 3 as well as Netscape, Microsoft, and Mosaic extensions. (Reg.Fee: ($149,199)
Games
1CRU117 Stardate 2140.2: Crusade in Space 1.17 is an interstellar conflict game for WIN31. You are the emperor of Earth, and must build up your fleets, increase production, and conquer the galaxy before your enemies can do the same. A MIDI musical sound track is provided. Requires VGA and a mouse. (Reg.Fee: $34)
95MJONG4* Moraff's Morejongg for Win95 4.0 is a 32-bit implementation of the ancient oriental tile game. Features include traditional and 288-tile layouts, the ability to use your own images on tiles, save/recall game options, and more. (Reg.Fee: $?)
95RADIAT* Moraff's Radiation (32-bit) 1.0 is a multimedia enhancement of the original "minesweeper" game for Win95/NT. Features include support for up to 16 million colors, cute animations, photographic backdrops, multiple board sizes and levels of difficulty, and more. (Reg.Fee: $?)
AGNSETUP AGNS - A Game of Naval Strategy 1.62 is a game of naval warfare for Windows where your objective is to sink the computer's units or capture his main base. Each turn consists of a plot movement phase, air combat phase, movement and combat phase, air strike return phase, and a repair/build phase. This sequence is repeated until one side claims victory. (Reg.Fee: $15)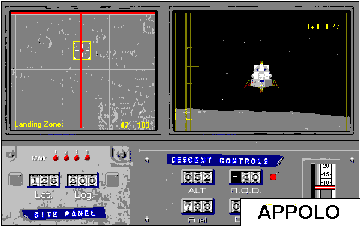 APOLLO Apollo - Mission to the Moon 1.0 challenges you to take command of an Apollo spacecraft bound for the moon and back. Photo-realistic graphics combined with authentic audio will place you inside the cramped craft as it descends to the lunar surface. The game is divided into three distinct phases: Lunar landing, orbital docking, and Earth re-entry. Requires a 486 with 8MB RAM, and a sound card. (Reg.Fee: $10)
BNP_40 Bits'n Pieces 4.0 allows you to turn any BMP graphic file into a puzzle to be completed on your Windows desktop. Puzzles can range from four pieces (2x2) to 64 pieces (8x8). Other features include a peek feature for viewing the completed picture, a low system resource warning, puzzle completion stats, music/sound effects, and more. (Reg.Fee: ($11)
COMPUZZL Compuzzle is a first-rate, computerized crossword puzzle. The program is easy to use. As you scroll across or down the screen, the clues are shown at the bottom of the screen for the across and down spaces you are on, and you can type in all or part of answers at any time. The program will optionally verify your answers as you enter each character, after each word, or after the puzzle is done. Answers can be saved and restored for play at a later time. (Reg.Fee: ($?)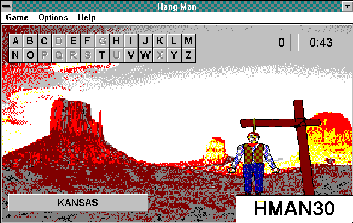 HMAN30 Hangman (CI) 3.0 is a Windows version of the classic word game where you are presented with a hidden word or phrase and asked to guess letters in order to find the solution. (Reg.Fee: $10)
JIGSAW20 Jigsaw (FSA) 2.0 is a fun jigsaw puzzle game for Windows. It comes with five BMP graphics to create puzzles with up to 100 pieces in triangle, circle, square, or random shapes. Features include a high score listing, hints (that cost you points), several configuration options that allow you to customize the game, the ability to import your own graphics, and more. (Reg.Fee: $12)
OOOC Order Out Of Chaos 1.12 is a graphic puzzle game for WIN31. It shows the player a picture which has been broken up into 48 tiles and then mixed up. With the picture in this chaotic state, two random tiles switch places every half second. The player tries to restore the picture to an orderly state by clicking on a tile whenever it appears at or near the spot where it belongs. (Reg.Fee: $5-22)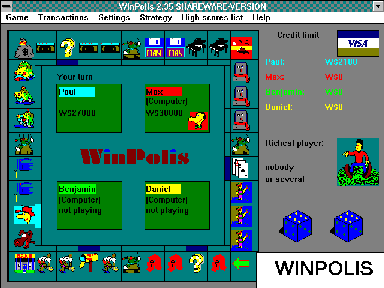 WINPOLIS WinPolis 2.35 is a Monopoly-like board game for Windows. Up to four human/computer players can compete, buying and selling businesses and raining financial ruin on everyone in sight. (Reg.Fee: $25)
Graphics
GIFCON* GIF Construction Set for Windows 1.0j is a powerful collection of tools to work with multiple-block GIF files. It will allow you to assemble GIF files containing image blocks, plain text blocks, comment blocks and control blocks, and provides facilities to manage palettes and merge multiple GIF files together. Requires a minimum of 4MB RAM, but 8MB is recommended. The Win95 version is GIFCON95. (Reg.Fee: $20)
GWSW95* Graphic Workshop 95 1.1 allows you to convert, print, view, dither, transform, flip, rotate, and scale virtually any graphic file in Win95. Other features include slide show capabilities, the ability to catalog images, a wide variety of special effects, thumbnail previews, and much more. (Reg.Fee: $45)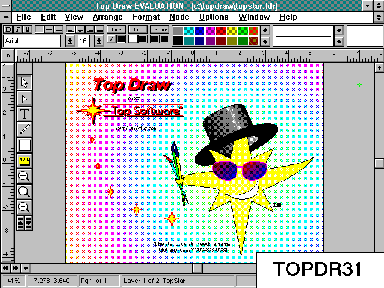 TOPDR31 Top Draw 3.10 is a sophisticated drawing program for WIN31. It can be used for desktop publishing, illustrations, diagrams, logos, brochures, newsletters, and more. (Reg.Fee: $50)
Maths
CMSTR40 Conversion Master Engineering Calculator 4.0 is a powerful dimension and conversion calculator for Windows with over 3200 different unit conversions built in. It accepts input in Degree Minute and Seconds, Decimal, Meters or Feet- Inches-Sixteenths, and can convert between formats at the click of a button. Other features include instant recall of the last 50 conversions used, the ability to solve right or oblique triangles discerningly, a comprehensive Help file with examples, and much more. (Reg.Fee: $48)
EXPRESS Expression 1.2 draws mathematical functions and evaluates complex numeric expressions containing variables. (Reg.Fee: $0-$10)
KALK32* Kalkulator (32-bit) 1.24 is a powerful scientific/engineering calculator for Win95/NT. Features include more than 100 functions, column-wise operations on statistical data, linear algebra, unit conversion, save and restore functions, and more. (Reg.Fee: $40)
WAM21 Weights And Measures Plus 2.1 is a unit-conversion package for Windows. It provides support for up to 158 different units in 11 categories, decimal to fraction conversions, a trigonometry module, extensive help screens and tutorials, and a complete glossary. (Reg.Fee: $30)
Screen Savers
ARMOR10 Armor Screen Saver 1.0 is a Windows screen saver module that displays photos of armored vehicles in action. Pictures include M1 Abrams, M3 Bradley, and a burned-out Iraqi T-62. Requires a 256- colour display and 4MB memory. (Reg.Fee: ($15)
ARTSAVER ArtSaver: Nature 1.03 is a Windows screen saver that displays 30 high- resolution pictures showing nature in autumn. The graphics are in True Colour with resolution up to 1024x768 in a compressed fractal format. Each picture is shown with many transition and dissolved effects giving this screen saver a unique artistic quality. (Reg.Fee: $15)
BCV1296A+ Bitmap Collection Screen Saver, Vol.1 2.96 contains 11 full-screen and 37 tiled wallpapers which are arranged into 20 rotating screens. Each one is displayed for 30 seconds, with interesting transition effects. Other features include 16 and 256-colour support, password support, and more. (Reg.Fee: $15)
BPLAY21 B-Play 2.1 allows you to select any BMP or WMF graphic file for use as a WIN31 screen saver. Other features include the ability to step through all the files in a selected directory, play a selected WAV sound file as a graphic is displayed, and the ability to overlay a text message on the graphics. (Reg.Fee: $12)
EZSAVER EZSaver 1.31 allows you to create a personalized Windows screen saver using your own BMP images. Graphics can be made to spin, twirl, and skate across the background colour of your choice. A bonus screen saver is included. (Reg.Fee: $22)
NIAGRA10 Niagara Falls Screen Saver 1.00 is a screen saver module for Windows with photos of the falls and immediate vicinity. The photos rotate automatically when activated. Requires 256-colour video and 4MB memory. (Reg.Fee: $15)
PSYCH25 The Psychedelic Screensaver Collection 2.5 is a set of four hypnotic screen savers for Windows. This includes versions for WIN31 and Win95/NT. (Reg.Fee: $20)
SOSPER21 S.O.S. Personal Edition 2.1 is a customizable WIN31 screen saver that can display up to four graphic files on screen in BMP, GIF, PCX, TIF, and other formats. The pictures rotate slideshow-style when activated. (Reg.Fee: $0)
SPACEX12 Space Explorer 1.21 is a screen saver module with views of outer space. Features include three 256-colour photos, including night shuttle launch, spiral galaxy, and moon landing. (Reg.Fee: $15)
Utilities
CALIB140 Calibra 1.40 is a clock featuring fully scalable faces, an alarm, and a calibration feature allowing it to automatically reset the system clock from time to time, keeping it more accurate. (Reg.Fee: $16)
CHRPAL Character Palette 1.2 allows you to easily insert special characters while typing with just one click. Five standard character sets are provided, and you can edit or create new ones. (Reg.Fee: $15)
CUR5* Cur5 contains over 500 cursors for Win95. (Reg.Fee: $0)
FMGRD209 File Manager Guard 2.09 allows you to set up restrictions for the WIN31 File Manager. You can limit user access to selected drives, prevent them from performing any command of File Manager, changing its configuration, running programs or opening documents. Network support is provided. (Reg.Fee: $30)
IM10* IconMaster'95 1.0 is a set of 2 icon managing programs for Win95. This includes an icon editor and a BMP to ICO converter. (Reg.Fee: $0)
ISPY254 InfoSpy 2.54 is a general purpose Windows environment viewer that allows you view Heap, Tasks, Windows, Classes, Modules, File Handles, DOS and Memory information. You can trace messages and stack and set up automatic timers to provide real-time tracing on virtually every aspect of Windows. (Reg.Fee: $20)
MORSP95* More Space for Win95 2.0 helps locate and delete file duplicates based on filename or name/date/size. Its output can be sent to printer or clipboard. This is a handy tool to help you free up valuable hard disk space. (Reg.Fee: $20)
QCKDSK10* Quick Disk 1.05 adds an icon to the Win95 tray that allows you to quickly obtain free space information on all your drives. Requires VB40032.DLL. (Reg.Fee: $0)
QRESTART* Quick Restart for Win95 allows you to instantly shutdown all open applications and files at the click of a mouse button or a hotkey and later when you power-up, restore the entire system with all open files ready to go at the same place as before. QRWIN31 is the Windows 3.1 version. (Reg.Fee: $30)
SNAGIT30* SnagIt Twin Pack 3.01 is an easy to use screen capture utility for Windows 3.x and Win95/NT. It captures your screen, window or region to the printer, clipboard, or a variety of file formats, including PCX, JPG, TIF, and BMP. This fully supports DDE and MAPI for easy integration into your applications, and supports all Windows video modes and rastering printers. (Reg.Fee: $40)
TBAVW ThunderBYTE Anti-Virus for Windows 7.01 is a Windows front-end interface for use with the ThunderBYTE Anti- Virus Utilities version 6.05 or above. Now includes a version for DOS. NEW: over 200 new signatures, increased detection rate, now able to locate macro viruses from everywhere in a document (even if macro is fragmented or encrypted). (Reg.Fee: $125)
WINZIP61 WinZip 6.1 is a ZIP file manager for Windows. Features include a well-done pushbutton interface for adding, deleting, extracting, and viewing members of a ZIP file; an extended-selection list box with the names, sizes, and date/time stamps of files in a ZIP file; extensive on-line hyper- text help/documentation; full support for LZH files (including self-extracting LZH files); support for Norton Desktop for Windows; and support for PKZIP 2.0. It also features a facility to extract all files in a ZIP to a temporary directory and create a Program Manager group for all files in the ZIP. Support is provided for ARC files and self-extracting ZIP files. An optional interface to Virus Scan software is available. PKZIP is not required for basic archive management, but is required for more advanced functions. Installation is very easy, and all options can be saved and restored. (Reg.Fee: $29)
WSI95_10* Win-Secure-It 1.00 is a system security solution for Win95 that supplies protection against unwanted intruders from accessing items you choose to protect. Protection is done in three levels, blocking any access to the files, allowing just files read-only access, or just monitoring file and data usage. An intruder log is collected to keep track on unwanted attempts to violate the file security. (Reg.Fee: $29)
---
NEW AND UPDATED DOS PROGRAMS
ATTACK27 Letter Attack 2.7 is an arcade-style typing tutor. Words and letters flash across the screen and must be typed correctly before they reach the bottom of the screen. A practice section is included to show correct finger placement. (Reg.Fee: $12-30)
CAL_JMR CAL Appointment Scheduler 1.0 is a quick and easy scheduler for home or office. Features include text search, open appointment search, schedule printing, and more. (Reg.Fee: $40)
MEMDTX21 English <--> Spanish Flashcards 2.1 is a Spanish vocabulary drill. Options include English to Spanish or Spanish to English. Progress is measured by a score keeper and a timer. Over 800 words in 8 lessons are included. The object is to complete 50 questions without incurring more than three errors. (Reg.Fee: $15)
Communications
ACP01 Acronym Converter Program 1.0 expands acronyms commonly used in email messages to their standard English counterpart. This includes acronyms such as BBS (bulletin board system), as well as more casual acronyms like PMFJI (pardon me for jumping in). Acronyms are converted using a list of definitions that you can edit to include your own. The resulting file contains the expanded phrases enclosed in parentheses. This version will only catch about 80 percent of the acronyms in a message and the included list only contains 40 examples. (Reg.Fee: $15)
EMAIL_IT EMail-It 1.0 converts files between binary and ASCII format for the purpose of sending email over the Internet. (Reg.Fee: $20)
UNHTML13 UnHTML 1.3 removes HTML code from files and optionally shells to your favorite editor to clean up the resulting file. Versions are included for DOS, Linux, and OS/2. (Reg.Fee: $0)
Games
DRGNBN12 Dragons Bane: Mah Jongg II 1.2 is a Mah Jongg-style game with digitized sound effects, variety of tile sets and board layouts, and a tile editor. (Reg.Fee: $16-24)
PCSHLK21 PC-Sherlock 2.1 is a game of logic and deduction. The computer competes against you in deducing a secret number. (Reg.Fee: $16)
RRV20 Robot Revenge 2.0 is a comical shoot- em-up game which pits your stick-figure character against a host of robots, flying blades, and other line-drawn objects. Be careful, the robots have their own demented means of extracting revenge. This game is not so much a challenge as it is amusing to watch. It's certainly the most violent stick-figure game we have ever seen. (Reg.Fee: $any)
Maths
HUGEMATH HugeMath 1.0 is a command line calculator with support for integers of up to 500 digits each. (Reg.Fee: $0)
UCALC Ultimate Calculator 3.0c is an 18-digit scientific calculator. It can evaluate expressions, solve equations, perform numerical integrations and do summations. It also features flexible notations such as SQR or SQRT; a line editor with expression recall; decimal, hexadecimal, binary and octal notations; radian, degree, and gradient modes for trig functions; arithmetic, bitwise, and relational operators; hyperbolic functions; common functions such as factorial or absolute value; user defined functions and variables; and adjustable fix notation. SR mode, menu for graphing, ability to add text to the graphic screen, and built in support for MCGA. (Reg.Fee: $25)
Utilities
4DOS552 4DOS 5.52 is a complete replacement for COMMAND.COM, the command processor that comes with DOS. 4DOS is a much more powerful command processor, offering more powerful versions of typical DOS commands and adding numerous new commands. 4DOS can load its resident portion and/or the master environment into DOS 5 Upper Memory Blocks, and supports swapping to XMS extended memory. Network support is included, and enhanced wildcards let you specify lists or ranges of characters to include or exclude. A command history can be viewed and executed from a pop- up window as well as at the command line. The program is compatible with DESQview, DR-DOS, and Windows 3.0. A hard disk is required. NEW: additional support for third-party description files, strips quotes from PATH string where required under Win95, improved network support for long file names in directory and file name completion.
BFIND603 BFind 6.03 searches text files for specified strings of text using boolean logic. For example, find any line with one string AND another one, or any line with one string OR another. Added options to read input in binar mode, added wrapping based on desired line length, added wild card and @listfile support. (Reg.Fee: $50)
BIRDVU12 Bird's-Eye-View 1.2 is an ASCII file viewer with cataloging, bookmark, and screen page navigation features for speedy retrieval. Up to 676 files can be cataloged in 26 folders with descriptive titles. An automatic bookmark remembers the place you were viewing in the previous session. (Reg.Fee: $23)
CPAST221 Cut & Paste 2.21 is a text mode, mouse based program that allows you to select a part of the screen and paste it to the keyboard buffer, to a file, or to a printer. It works in a Windows DOS box. Quick selection of word option, multiple entry buffers, enhanced word selection with different set of characters being part of a word, added accentuated characters in French and Spanish messages. Compatible with colour screens running in mono mode. (Reg.Fee: $10)
CRYPT_JS Crypt (JS) 1.0 performs quick file encryption and decryption from the command line. C source code is included. (Reg.Fee: $0)
FIXTX603 FixText 6.03 allows you to apply a user-defined character translation template to any text file. This can be useful for changing an entire set of characters at once. Character translation tables can let you convert all lowercase characters to uppercase, translate IBM graphics characters into standard ASCII text, remove trailing spaces, etc. Input file specifications can include wildcards or external files containing the files to be processed. (Reg.Fee: $10)
DOSFT220 DosFont 2.20 allows you to change the standard screen font to one of over 25 choices. Fonts include old English style, handwriting, tiny fonts, cyrillic, LED, and more. For those who like being thoroughly confused, there is also a font which will display a reverse image of the text on your screen. (Reg.Fee: $10)
QUIKPK QuikPak 1.0 is a set of four programs to enhance operations in DOS. QuikCalc is a Lotus 1-2-3 style spreadsheet with support for over four billion cells of data. QuikDesk is a file manager with several functions for file navigation, as well as a calendar, calculator, viewer, ASCII table, and more. QuikEdit is similar to DOS EDIT with additional features such as WordStar key support, clipboard, and calculator. QuikView provides an easy means for viewing any text file on your computer. (Reg.Fee: $0)
INVB InVircible 6.11 is an anti-virus program which uses generic methods to protect your computer and restore it to a virus-free status. It is especially helpful in locating and removing unscannable viruses and recovering access to your hard drive after a boot sector virus infection. The program can help you to restore corrupted files and sectors, trace and eradicate unknown viruses, and configure non- TSR virus detection. Detect modifications in the CMOS setup parameters to insure that all changes to the hardware configuration reflect properly in the rescue diskette. Supports all operating systems (DOS, OS/2, WIN95/NT), has a mode to detect and clean mac viruses, and identifies legitimate swapping between WIN95 and previously installed DOS version. (Reg.Fee: ($103)
SADEL101 SafeDel 1.01 is a TSR which will intercept all delete attempts by moving files to another directory. If the directory doesn't exist, SafeDel will create it. French, Spanish, and English versions are included. (Reg.Fee: $8)
VWFILE View [MD] 11.3a is a file viewer for WordPerfect 5.0-6.0, Microsoft Word 4-5, WinWord 1-6, Win Write, Ami Pro, Wordstar, and ASCII. (Reg.Fee: $20)
---
Back to August 1996 Index