---
SEPTEMBER 1996
---
Alice Adventures In Wonderland
by Alan Tebb
---
Says Alice to the Cheshire Cat…
"Would you tell me, please, which way I ought to go from here?"
"That depends a good deal on where you want to get to", said the Cat.
"I don't much care where…" said Alice
"Then it doesn't matter which way you go", said the Cat.
---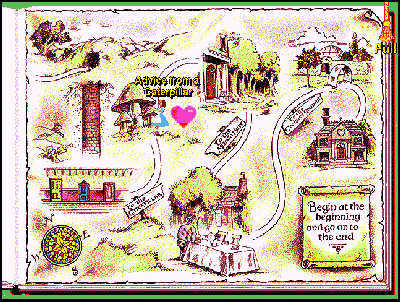 At times I think we might all have felt a little bit like Alice. We ask ourselves, which way do I go in life, what is it all about, what do I really want to be? Well, the Cheshire Cat gave Alice and the rest of us, some good advice. Unless you know precisely where you want to end up, it doesn't matter which way you go. Keep walking long enough and you are sure to end up somewhere, just don't be surprised if it isn't where you expected to be.

Lewis Carroll (actually Charles Dodgson, Lewis Carroll was his pen name) was apparently smoking quite a bit of opium around the time he wrote Alice's Adventures in Wonderland. And doesn't it show! Some critics say his story is full of political and social allegory, others describe it as a wonderful tale meant only to delight children. As a young person I remember the story was quite difficult to read and even more difficult to understand. So, with some interest, I decided a couple of weeks ago to do a more serious review for a change, just so you know I have interests wider than DOOM, Wing Commander and Dark Forces.

I think most people agree that the computer will never replace the feel of snuggling into a comfy chair with a good book to read. So why take a classic story like Alice's Adventures in Wonderland and make a CD out of it? Well, through the medium of the CD, children as young as seven can sit, watch and listen to the story and appreciate Alice's adventures long before they are capable of reading it. We have had inter-active books for the computer for years, but until recently, I had not seen any serious attempts to bring children's classics onto the CD market. Europress has apparently had so much success with Alice, that they have now added Treasure Island, Peter Pan, Tom Sawyer and Journey to the Centre of the Earth to their list of titles. I also found out that Europress have recently released a new series for the younger age group called Read and Play. The first title available in this series is The Gingerbread Man.

My only disappointment with Alice's Adventures in Wonderland was that the CD contains an abridged version of the story. Even so, the CD takes just over one hour to play from beginning to end. Lewis Carroll's original text is faithfully re-produced which, by today's standards, is heavy going in places. Here again the CD has some definite advantages over the hard copy version. Europress used English Shakespearean actors, which is a refreshing change from the more commonly encountered American accent, to narrate the story. Without doubt the quality of the narration is a feature of this CD, breathing life into some otherwise convoluted English. The story is told by one male and one female narrator, each producing a range of voices to suit the many oddball characters encountered by Alice. Onscreen, the words are highlighted as they are spoken by the narrators. This makes it easy for young readers to follow the text if they wish, or for those children that cannot read, the story unfolds with the help of beautiful graphics, soft background music and sound effects appropriate to the action.

Another quality feature of the CD is the inclusion of Sir John Tenniel's original illustrations for the story. The scenes have been adapted to include interactive areas where a click with the mouse will result in additional sounds and actions to add more fun for the reader. Unfortunately the animation of Alice has been rendered in a "3D" style which makes her movements seem more realistic, but is a curious departure from the style of Tenniel's art work. As a result, the contrast between Alice and the other animated elements of the CD is quite noticeable.
The CD also includes four games adapted from the story. Two games involve timed memory challenges, while the other two games resemble arcade style action requiring good reflexes. The games are not a particularly noteworthy feature of the CD but they do provide some fun and challenge for children aged between about seven and ten. The CD can also be used as an audio story book and played on a normal CD player. Without a book to look at while the CD played, I did notice that the attention of my younger children was not sustained for the full hour it takes to complete the story.

As a bonus, the CD includes brief details about the author, a mathematics lecturer at Oxford and the illustrator Sir John Tenniel. We learn for example that Dodgson based the character of the Mad Hatter on an eccentric that lived in Oxford and even went by the same nickname. With Christmas in mind I think these classic stories on CD would make great gifts for the right kind of child. If you are interested, make sure you give the guys in BitStorm time to order in a particular title. They tell me that the CDs have been selling well and stock of some books does not last long.
SUMMARY
Statistics
Title: Alice's Adventures in Wonderland
Format: One multi format CD for the PC, Macintosh and audio CD player
Manufacturer: Europress (www.europress.co.uk)
Genre: Literature
Price: RRP $39.95.
For the month of October, BitStorm in the Canberra Centre will sell Alice to PCUG members on presentation of a current membership card for $36.00.
Classification: Suitable for 6 years and over.
System Requirements: As a minimum Alice requires a 386DX-33 Mhz, 4 MB of RAM, CD-ROM drive, 256 colour VGA monitor, a mouse and sound card.
Assessment
(Out of a possible





maximum)

Graphics





Using Sir John Tenniel's original pen and water colour illustrations in the CD lends an "old world" feel to the product. The graphics also make a nice change from the usual cartoon style graphics found in most other interactive books. I think the creators spoiled the effect to some degree by animating Alice with the latest 3D style of rendering. Unfortunately the two styles don't mix all that well.
Sound Effects


Music



Speech





The highlight of this product is the excellent narration. Using skilled and experienced actors to do the voice overs brings the text alive and adds a dimension to the story which would be otherwise missed in a hardcopy format. The music on the CD is pleasant but not outstanding. The sound effects are there only to add support to the narration.
Game Play
The book allows the young reader to select different "chapters" in the story and to quickly flip from one page to the next. The CD also allows single pages to be read a second time if required. The four games on the CD are not serious entertainment but never the less add a bit of fun for the kids.
Documentation
The CD does not contain any documentation and none is really required
Ease of Installation





Under Windows 95 nothing could be easier. Just pop the CD into the player and after a brief loading routine, away it goes. The CD does not require space on the hard drive to run.
Value for Money




An interactive book is not the sort of thing that children will return to again and again, so in terms of value for money the CD may have limited appeal to some. Then again, you might pay up to $20 or more for a hard back version of the story. I think that at the BitStorm price of $36, a children's classic story on CD in a multiple format that can be played on an audio CD player, with narration, original illustrations, and four arcade games thrown in for good measure, isn't to bad a deal.
---
Alan Tebb is the Director of Adept Word Processing, a desktop publishing and graphic design business in Canberra on telephone (06) 291 9220.
He is also a partner in EdRev, an educational software review service for parents and teachers available on the 'net at www.echidnahouse.com.au.
He can also be contacted by email, atebb@pcug.org.au.
---
Back to Sep 1996 Index