---
SEPTEMBER 1996
---
Music Anyone?
by Andrew Purdam
It was a dark and stormy night, and I desperately needed a notation program for arranging some music I wanted to play in our trio. Quickly, I connected to the net, did a search, and found two relatively cheap shareware programs: Mozart $US50 plus postage and Noteworthy Composer $US39 including postage.
I was very taken with Mozart, as it let me fiddle with spacing and make the printed page look beautiful, (musicians love to see their work in neat print) and I had just sent off my registration money when – aargh! – I discovered that it couldn't handle chords!
Quick, rewind! Send off an apologetic cancellation notice. Now where did I put that other program, Noteworthy something or other? I quickly unpacked it and found that it was not only cheaper than Mozart, but had all the same functionality for entering and editing notes, and it allowed me to enter chords! Mozart definitely provided finer output, but kerning notes wasn't my number one priority...
Getting Started
Noteworthy was very easy to install. The net version is a Zip file (1.1Mb) which you unpack, and then execute the setup program. You can specify where you want it. One word of warning: it needs to be removed and reinstalled if you want to move it, 'cos of font file registrations and the like. Not a big deal, as it has a deinstall program as well.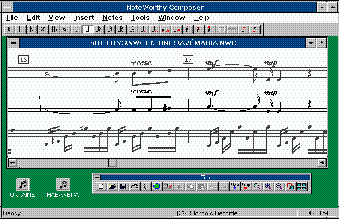 Like any well-engineered Windows program, it's follow-your-nose. It has the standard Windows 3.1 application look and feel (the creators ship a Win95 variety, too) with:
tool bars and helper prompts
status bar (including a clock for timing your pieces!)
drag and drop from File Manager and multi-document handling, and
intuitive mouse and keyboard commands
so it fitted in with my habits, and was very easy to get going.
Features
Easy entry of notes using arrow keys and enter and space keys
Note lengths and modifiers for dots, double-dots, sharps and flats are all accessible via the keyboard or the mouse. When I'm in "power-user" mode, I tend to use the keyboard, and found this really easy going.

MIDI device selection on individual instruments
For those big pieces where 16 channels ain't enough! Of course, this is only useful if you have more than one midi device!

Muting of individual staffs
This is great for review of what you're writing, so that you can focus on individual parts.

Bar numbering and Goto bar
Sounds worthwhile.

Lyric support
Allows automatic lining-up of syllables with notes and up to 8 verses. Printing of selected parts, so that you can give individuals their own part Noteworthy handles this much better than Mozart, which required reformatting each time a part was extracted.

Support (and MIDI implementation)
of dynamics, crescendo, decrescendo, tempo, smooth tempo variations, fermatas, staccato, and legato. Also multipoint controllers for complex things like pitch-bend, swell, and accelerando.

Up to 100 (user-configurable) Undos!
I can't begin to tell you how useful this is, but it makes experimentation very easy.

Text entry
Arbitary text can be easily entered for – say – guitar chords, though these won't be played, of course! (If you're after guitar tablature, better try another program!)

Output
Import from and export to MIDI files, and page-by-page export of print to either Windows metafiles or Windows Bitmap files.
On-line Support
By far the biggest feature for me with Noteworthy Composer is the most pleasant and helpful on-line support I've ever come across (apart from the PCUG!). I e-mailed some bug reports to them and, lo and behold, an official upgrade was created and posted back to me within two days! It's not always that fast, and they haven't yet implemented my wish-list, but by goodness I feel like they're listening to me!
Coda
I've written, transcribed or arranged more than ten pieces now, and simply love this program. It now only takes me a couple of hours to arrange a four-part piece of forty bars, after I've imported a simplified version from a midi file. If you are a musician who needs a good and cheap arranging and notation program, Noteworthy Composer is hard to beat!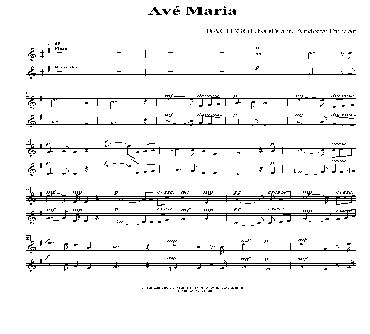 ---
Noteworthy Composer is available at http://www.ntworthy.com (someone else had already nabbed www.noteworthy.com!)
---
Back to Sep 1996 Index