---
SEPTEMBER 1996
---
Photoworks
by Walter van Praag
Yes, here is what we all want! No more scanning photographs, buying expensive electronic cameras, or other geek stuff! Now we can send our regular photographic film to National Photos, and not only get a most reasonable rate for photo-processing, but get our photos on diskette!
The first time you do it they send you two diskettes with the required Windows 3.x software on it: Photoworks. It is a simple version of the upgrade pack called Photoworks Plus. This upgrade is available at $29.95. So far I have been impressed with the provided version, although a friend has told me I must get the upgrade.
As for all software, most people do not have time to play and stuff around too much, but Photoworks gives us the ability to do the basics with our photos. The basics meant that I was able to do the following:
Write a description for each photo.
Rotate photos so I didnít have to tilt my screen to view portrait style photos!
Crop pictures, cut out my finger on the lens, the ugly face of an innocent bystander, and other offensive bits that ruined a good photo.
Translate the photos into different graphic formats (jpeg, bmp etc.) and import them to other utilities.
Create a collection for Microsoft Scenes (a screen saver and wallpaper application that many people seem to have) and thus have my own shots featuring on my desktop and my special collection as a screensaver!
The latter required slightly more concentration, but it is easy enough for most to discover. As most of my international PC-pals do not have Photoworks, but do have MS Scenes I can email them my collection of best shots in reasonably compact files ready for their screen saver! Individual JPEG photos are about 30K each, a lot less compressed! Attach one to an email with a home recorded wave file with an exclamation on it (ĎHere I come!í) and your friends and relatives will be most impressed!

The best thing Photoworks does is that it makes one appear to be a good photographer because out of the collection of 36 photos one can generally manage to create a collection of say 30 great pictures. Some may be two pictures made from one photograph, you know the ones where the two subjects are too far apart in the shot? Take the two subjects separately and blow them up, easy as P.

The cost? One roll of 36 exposures $9.95 for the normal photos, $5.50 for the extra set to send up and give to computer deprived friends, and $7.95 for the diskette!

To contact them call 1-800-074237, email them on help@national-photos.com.au or visit their home page at www.national-photos.com.au.

And if you really want them to know where you got their address, mention my mumís customer number with your first roll of film and she will get a pressy to the value of $4.95 in her mail. Her customer ID is 15594702.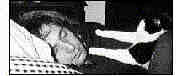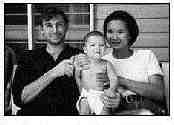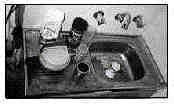 ---
Back to Sep 1996 Index