---
SEPTEMBER 1996
---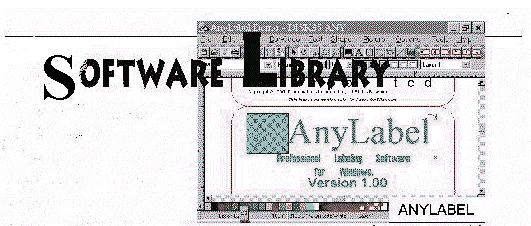 Software Library
by Phil Trudinger
---
The files described in this article are on the August 1996 CD-ROM (PsL Vol 4, #8) which is currently on the Bulletin Board: all are ZIP files. Please quote the month or Vol/# when ordering files on disk.

The text files, CD1 through 7, in Area 1 of the Bulletin Board are the monthly CD-ROM file lists. Catalogues as EXE files are available on request from the software librarians (see Member Services in Sixteen Bits).

Reminder

Most CD-ROM programs are Shareware. A reasonable time (generally one month) is allowed for evaluation, but if you continue to use a program beyond this time you should comply with the author's conditions that usually require payment of a registration fee. Bear in mind that this is the only way by which an author receives any reward for his/her efforts. All registration fees are US dollars.
---
---
NEW AND UPDATED WINDOWS PROGRAMS
(An asterisk denotes Windows 95 specificity or compatibility)
General
CTCAL* CT Calendar 1.0 is a 32-bit desktop calendar for Win95. Requires VB40032. (Reg.Fee: $10)
METZPH16 METZ Phones 5.62 is a comprehensive address and telephone management package for Windows. (Reg.Fee: $49)
MI121 Master Investor 1.21 is an investment management and analysis system for Windows that provides comprehensive portfolio management for stocks, mutual funds, bonds, options, cash, other assets and liabilities. It draws technical analysis charts including moving averages, candlesticks, stochastics, RSI and more. Other features include the ability to import downloaded stock quotes, a powerful report generator with 20+ custom reports, an more. (Reg.Fee: $130)
MWAP13 Medlin Windows Accounts Payable 1.31 is a fast, easy to use A/P and check writing program for small businesses. It can print reports for any period or combination of periods. Reports can be previewed on screen and saved to a file. An easily-modified standard chart of accounts in included. Invoices are entered, marked for payment and checks written from a single screen. (Reg.Fee: $38)
MWAR10 Medlin Windows Accounts Receivable 1.05 is a fast and easy-to-use A/R, invoicing, and sales summary package for Windows. Features include the ability to reprint any saved statement or invoice, two auto-bill fields, custom statement and invoice printing, support for up to 4600 customers. Other features include support for up to 32760 entries per month, 1600 four digit sales codes, five programmable tax rates, and more. (Reg.Fee: $38)
MWGL13 Medlin Windows General Ledger 1.31 is a fast, easy to use double entry general ledger program for small businesses. It prints general ledger, transaction listings, income statements and balance sheet reports for any period or combination of periods. Reports can be previewed on screen and saved to a file. An easily-modified standard chart of accounts in included. (Reg.Fee: $38)
NGKDN46 NutriGenie Kidney Disease Nutrition 4.6 provides information based on the U.S. Surgeon General's and National Institutes of Health's dietary guidelines for kidney disease patients. Careful nutritional therapy has been shown to help prevent complications and may even slow the progression of their disease. This is an essential tool for health providers, and includes an Omega-3 Counter program. (Reg.Fee: $89)
NGWS46 NutriGenie Weight Shedders 4.6 is a powerful Windows-based tool for weight control that includes a large database of foods. Other features include an easy-to-use interface, a unique graphic food pryamid analysis, a sophisticated menu generator, and more. This is based on the Surgeon General's guidelines to avoid obesity. (Reg.Fee: $35)
QPHON111 QuikPhone 1.11 is an easy-to-use corporate phone directory for Windows. Features include a multiple-entry directory listing, powerful searching facilities, pop-up information boxes, and much more. Sample data files are included to help get you started. (Reg.Fee: $20)
RPNCALC1* RPN Calc 1.0 is a Reverse Polish Notation calculator for Win95/NT. It has the look and feel of an HP calculator and almost all of the same numerical functions. (Reg.Fee: $15)
TXP1620* TextPad 2.0 is a powerful text editor for WIN31. It can handle files with up to 32,000 lines of 4095 characters, with multiple simultaneous edits and up to two views on each document. Other features include full undo/redo facilities, print previewing, a toolbar for frequently-used command, a built-in file manger, support for Unix and Macintosh text file formats, drag and drop support, and much more. TXP3220 is the 32 bit version. (Reg.Fee: $27-$35) The following dictionaries are available for use with TextPad: TXPADBOK - Norwegian, TXPADDAN - Danish, TXPADESP - Spanish, TXPADFRA - French, TXPADITA - Italian, TXPADNED - Dutch, TXPADSVE - Swedish, TXPADUK - UK English, TXPADUS - US English, TXTPADEU - German.
Communications
_GNWIN2* GrabNet 2.0.0E allows you to collect and organize information from the Internet, working in conjunction with your Web browser. It stores information intuitively in folders and sub-folders on the local desktop. You can easily grab snips of information, including images, text and URL's, for reuse, navigation and organization within a customized collection of folders. _GNWIN95 is the 32 bit version. (Reg.Fee: $?)
_WWIN95* Web Whacker (32-bit) 1.0 is a web crawler for Win95 that will download complete web sites or individual pages. You can easily download text or text and graphics to build an online library on your local drive. It changes all the links into local references, allowing for offline browsing. _WWWIN1 is the WIN31 version. (Reg.Fee: $0)
DGRAB3* Grab-a-Site 2.02 is a web crawler for Win95 that can gather complete web sites or individual pages, download the text and the graphics, and change the links into local references so that you can browse the site offline. It allows you to determine how many levels deep to crawl, whether or not to crawl only on the URLs domain or branch out, and what to download. (Reg.Fee: $0)
FAX_N105* FaxMail Network for Windows n1.05 adds faxing capabilities to Win95/NT applications. Features include an auto-print on receive option, background operation, custom cover pages, a fast fax viewer, timed sends, logging of all past and future fax events, and much more. (Reg.Fee: $55+)
MARAUD12* Internet Marauder 1.2 is a fully automated, link-following, file-retrieving web spider for Win95. It can retrieve all types of files from any part of the Internet. This is a powerful tool that can save you both time and money when searching for a multitude of related files. (Reg.Fee: $10)
NSCE_111* Netscape Cache Explorer 1.11 provides easy offline-access to all Web pages that have been cached by Netscape Navigator. Features include full text searching, the ability to extract entire document trees, intelligent domain sorting, and more. Requires Netscape 2.0 or later (32bit) and Win95/NT. (Reg.Fee: $20)
Games
BIG8SOL* BIG 8 Solitaire (32-bit) provides eight different solitaire games for Win95, with 256-colour graphics and sound effects. (Reg.Fee: $15)
BLOBFACT Blob Factory is a simple game for Windows where you try to get Blob to his hot tub while avoiding green ooze and unfriendly robots. (Reg.Fee: $0)
BOBOS_1+ Bob OS 3.0 is a fun "artificial intelligence" program for Windows that lets you carry on a conversation with your computer. You simply type in a sentence and "Bob" will respond. (Reg.Fee: $10)
CONFUS Confuse is an addictive puzzle game for Windows where the object is to push all the buttons down on the playing grid. What makes this rather difficult is that whenever you press a button, other buttons on the grid are affected. (Reg.Fee: $5)
GNU41P77 GNU Chess for Windows 4.10 allows you to play a challenging game of chess against the computer. Features include the ability to load prior games, a hint option, the ability to customize colors and text of the game board, and much more. (Reg.Fee: $?)
GSTORM12 GemStorm 1.10 is a "falling blocks" type game for Windows with great graphics and challenging levels. (Reg.Fee: $26)
JUMBLE20 Jumble (JM) 2.0 is a word game for Windows where you must correctly unscramble the letters of a mixed-up word (Reg.Fee: $0)
LPBRIDGE Let's Play Bridge 96.1 is a bridge game with many options. You can select different bidding systems for you and the computer. Scoring can be for rubber bridge or duplicate. This demo is limited in the number of different deals it will play. (Reg.Fee: ($30)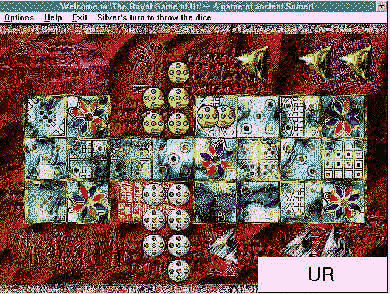 UR The Royal Game of Ur 1.0s is an interesting game for Windows based on an ancient Sumerian board game. You must throw pyramid-shaped dice in an effort to move your game pieces around the board, gathering rewards and sending your opponent back home. Features include excellent graphics, MIDI background music, and digitzed sound effects. (Reg.Fee: $15)
Graphics
BMPICO20 BMPTOICO 2.0 allows you to convert BMP images into icons (with transparency) and vice-versa. Features include 256-colour support, a picture viewer, a simple icon editor, icon extractor, and more. (Reg.Fee: $20)
CPX3210* CryptaPix (32-bit) 1.0 is a graphics viewer/encryption package for Win95 that supports GIF, JPG, PNG, PCX, TIF, and BMP images. Features include secure 40/80-bit PC1 and 160-bit Blowfish encryption, full-screen slideshow capabilities, format conversion, WAV sound support, and more. (Reg.Fee: $29)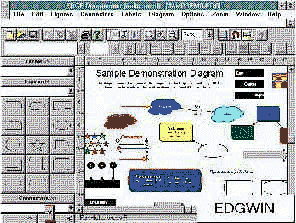 EDGWIN EDGE Diagrammer 2.00 is a powerful flowcharting and diagram drawing tool for WIN31. Features include over 100 predefined shapes and arrows, the ability to create custom shapes using a built-in macro language, full pan and zoom support, and more. (Reg.Fee: $90)
GRAFAC The Graphics Factory 1.3 allows you to create beautiful textures, backgrounds, designs, repeatable tiles, landscapes and more in Windows. This uses advanced algorithms and procedures such as noise, turbulence, magnetics, and life to create images. Drawing types include lines, boxes, pixels storm, sphere, fractals and over 30 more. Effects include wave, transparency, jitter, filters, sphere projection and over 40 others. High colour or true colour is recommended. (Reg.Fee: $39)
Maths
FREQ3D FREQ 3.2 is a data analysis tool for Windows which determines what sine waves make up a data set or time series: periods, amplitudes, phases, percent relative power. You specify which periods you believe are present, and FREQ tests those periods and graphically assembles selected waves into a revealing portrait of your data. (Reg.Fee: ($40)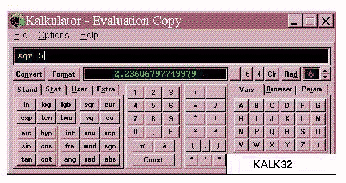 KALK32* Kalkulator (32-bit) 1.27 is a powerful scientific/engineering calculator for Win95/NT. Features include more than 100 functions, column-wise operations on statistical data, linear algebra, unit conversion, save and restore functions, and more. (Reg.Fee: $40)
MC16_16* Master Converter (16-bit) 1.6 can quickly and easily convert to and from 266 different units in 21 categories. Categories include: length, area, volume, time, speed, mass, density, force, pressure, energy, power, flow, dynamic viscosity, kinematic viscosity, temperature, conductivity, thermal conductivity, angle, light, numbers, and fractions. The Win95 version is MC32_16. (Reg.Fee: $15)
Utilities
32BCR400* BusinessCards/32 4.00 is an intuitive and easy to use universal freeform database/organizer for Win95/NT. It provides an elegant folio-like user interface with alphabetic tabs and flipping pages. A phone-dialing utility is also provided. (Reg.Fee: $30)
AHA_32* Aha (32-bit) 4.3 prints HTML, RTF, and regular text files in 1, 2, 3 or 4 columns per page and also supports odd and even page printing to save paper. It also includes a scalable print previewer, editor and file manager. (Reg.Fee: $20)
ANYLABEL AnyLabel for Windows 1.05 is a powerful WYSIWYG label design package. Features include over 1700 predefined label formats, support for all standard bar code types, support for 21 different graphic formats, and TWAIN scanner support. You can import data from dBASE, Clipper, FoxPro, CardFile, and ASCII text files. (Reg.Fee: ($59)
CODEPR32* CodePrint (32-bit) 3.22 allows you to print ASCII text files with complete control over how the text is formatted on the page. You can open and save configuration files that allow you to set page formatting for the various text files that you normally print. To save paper, a duplex printing option allows printing on both sides of the paper. Requires Win95/NT. (Reg.Fee: $20)
EZLABELS Easy Personal Labels allows you to quickly print one address label, a series of labels with different addresses, or a complete sheet of return address labels in Windows. A database is provided to store your addresses, or you can simply type or paste an address that you wish to print. You can use any of your Windows True Type fonts, select from left justified or centered text, and print in colour. (Reg.Fee: $12)
MATCHWIN Match for Windows 2.1 is a text file matching program that gives both a visual, colour highlighted comparison of files, and a text based summary of differences. This is useful for finding changes to INI files and program source code. It provides control over the match process by allowing blank lines, comments and others to be ignored while comparing. (Reg.Fee: 10 Pnds.)
METZLK METZ Lock 3.56 is a powerful password-driven security package for Windows. (Reg.Fee: $39)
QREAD95* QRead for Win95 2.1 is a text file viewer that makes it easy to read files of any size in any font on your screen. It will automatically adjust the font size or line breaks to fit the window. It also provides several useful tools for reading and organizing, including reading lists, timers, a clipboard viewer, drag and drop compatibility, printing options, multiple file searches, bookmarks, and file deletion. (Reg.Fee: $23)
AHANDY14 Handy 1.14 is a collection of over 30 utilities and games for Windows including a typing tutor, unit conversion, check book balancer, font utilities, a 7000 year calendar, world clock, and much more. (Reg.Fee: $34)
ALARMAST* AlarmMaster 1.2 allows you to quickly and easily set up daily and one-time alarms in Windows. You can choose your own alarm sound. This is Win95 compatible. (Reg.Fee: $29-$39)
BACKSTAG* Backstage & Backstage 95 are two companion programs used to edit, view and search Windows INI files and the Win95 Registry. (Reg.Fee: $17-$27)
FATWASTE* FatWaste 1.0 helps determine the amount of space wasted by FAT on your drive's filesystem. Requires Win95/NT. (Reg.Fee: $10)
HOT_SPOT* HotSpot 1.8 allows you to create hotspots which allow you to turn the Win95 screen saver on and off simply by placing the cursor in a predefined corner. Requires the VB4 runtime module, VB40032.DLL. (Reg.Fee: $10)
HOTC* Hot Corners for Win95 1.3 allows you to activate or prevent the screen saver simply by moving the mouse cursor in a user-defined corner of the screen. (Reg.Fee: $10)
LITLSHEL litl SHELL! 0.5.a.5 is a collection of multi-function desktop utilities for Windows, including a text editor, calculator, clock, a font printer, wallpaper changer, and more. (Reg.Fee: $5)
LP16_32* LaunchPad (32-bit) 1.6 is a powerful and flexible event scheduler for Win95/NT that can help automate all kinds of computer tasks as well as keep you informed of important events. Features include DDE commands, DOS commands, the ability to set condition triggers, and much more. (Reg.Fee: $20)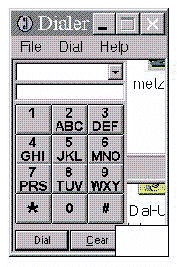 METZDL METZ Dialer 3.14 is a simple telephone list and speedy auto dialer for Windows. With a user-definable hotkey, you can dial numbers directly from any application. (Reg.Fee: $19)
METZDL32* METZ Dialer (32-bit) 3.14 is a speedy auto dialer for Win95 that accurately dials phone numbers using your Hayes compatible modem. With a user definable hotkey, you can dial numbers directly from any Windows application. It will also keep a list of your favorite names and numbers for quick reference and dialing. (Reg.Fee: ($19)
PEEPER Peeper 1.32 allows you to extract version and identification information from Windows EXEs and DLLs. Extracted info can be viewed on-screen or printed out.. (Reg.Fee: $28)
REGSRCH2* Registry Search & Replace 2.00 simplifies the maintenance of the Win95/NT registration databases. (Reg.Fee: $20)
---
NEW AND UPDATED DOS PROGRAMS
General
ELCD11 ELCAD 1.10 computes the unknown values of circuits, including resistance, wattage, capacitance, inductance, filter capacitance, timing circuits, and transistor circuits. (Reg.Fee: $26)
POEM Poem Writer 1.96 is a word processor for poetry writers. It presents a variable width word processing screen with various supporting information, including a rhyming dictionary, a method to remember rhymes selected from the dictionary, a method to remember the metric feet being used for each line, and various on-screen data, such as the current file name, cursor line, and column numbers. (Reg.Fee: $15-25)
RIMEFIND Rhyme Finder 1.96 is a rhyming dictionary. (Reg.Fee: $15-25)
TEHB10 The Electronic Holy Bible contains the text of both the Old and New Testaments in the King James Version of The Holy Bible. This electronic version features a Search function which allows you to search for any particular word or phrase; Autoscroll, which allows automatic scrolling of the text at the speed you desire; and a Print function which will print to paper any of the books of the Bible. (Reg.Fee: $22)
VDE Video Display Editor 1.8G is a fast, powerful text editor. Commands can be entered from a menu bar or with control keys. Features include a proportional spacing mode, keyboard macro recording, MenuBar mode; the ability to edit eight files at once; a command for proportional print; Autosave to automatically save your work at specified intervals; simultaneous windows scrolling; the ability to align the platen for printing on various kinds of forms; support for the file format of MS Word; an envelope printer; a wide range of screen sizes (from 17 to 57 lines); an integrated spell checker; and much more. integrated spell checker; and much more. Support is also provided for UltraVision, the HP95LX palmtop, and the Tandy keyboard. (Reg.Fee: $35)
Games
2BOARD Tommy's Board Game Pak II is a set of 12 software board games and skill toys. Included are Mill (Merrills), Connect the Dots, Maxit, Awari, Twisted Wister (sliding square puzzle), Math Tooter, Tut Tut Tut Tut (4X4 Tic Tac Toe), String of Pearls, Twisty Board and Telesis. (Reg.Fee: $43)
CTART_E CT-Art 2.0 is a chess tutor that teaches tactics. This demo is limited to one of the lessons, but that one is still very interesting. (Reg.Fee: $0)
D_SHAD15 Death By Dark Shadows 1.5 Enter a world of voodoo, black magic and the unknown in this strange story of Dr. Jones and his daughter. With your soul transformed into that of a black panther, your journey takes you into depths of darkness, as you leap over the perils of death in an attempt to rescue your brainwashed daughter. (Reg.Fee: $?)
DBQST12B DBQuest 1.2B Journey into a large graphical landscape as you unravel a twisted tale of vile sorcery and fantastic creatures. Converse with over 75 unique personalities, as you uncover the spell-binding plot. Make war with powerful spells and ancient weapons as you seek to save the fate of two worlds! (Reg.Fee: $0)
YENDOR1 Yendorian Tales Book I is a fantasy role playing game where you assemble a party of adventurers and explore a magical realm. (Reg.Fee: $22-$29)
YENDOR2 Yendorian Tales Book I Chapter 2 1.13 is a fantasy role playing game like "Might and Magic". Requires 2MB expanded memory, mouse, hard disk, and VGA. A Sound Blaster compatible card is recommended. (Reg.Fee: $22-$27)
Graphics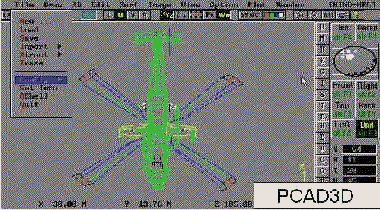 PCAD3D ProtoCAD 3D 2.00d is a fast 3D CAD/rendering program with 3D drawings and editing tools. It turns 2D drawings into 3D models. Visual aids simplify modeling and make adjusting the viewpoint easy. Perspective, isometric, oblique, and plane views are included. There is realistic light source and surface shading. It supports most popular dot matrix and LaserJet printers. It also has multiple layers, HPGL and DXF import capabilities, PCX output, and more. (Reg.Fee: $65)
SCHM96 SchemaCAD is a powerful, intelligent CAD program for drawing schematics of hydraulic, pneumatic, control and electrical circuit. You build circuits from components with no drawing skill required. You can design new components, scale, rotate, flip, change colour. You can print parts lists and p.o.'s, export and import DXF files, print A, B, C, D and E size paper, and more. (Reg.Fee: $45)
Utilities
BURNIN Burn-In 4.5 allows extensive testing of new computers. It is meant to run for at least 72 hours and during that time cycles through repeated tests of your disk drives, CPU, monitor, display adapter and RAM memory. Features include automatic command-line operation, automatic disabling of tests on defective disks, a convenient summary file, along with error-only logging as the default. ***BEWARE*** Once you start this program, you can only break out of it at certain points and those points may be three or four hours in coming, so don't start the burn-in unless you do not need your computer for a while. (Reg.Fee: $15)
DATA_REC TIRAMISU 1.02 is a sophisticated data recovery program for repairing crashed hard drives. It scans, analyzes and reconstructs drives without readable boot sectors, readable FAT or readable directories and no longer recognized by DOS. (Reg.Fee: $99)
FP223A F-Prot 2.23a scans disks, hard drives, and all network drives for viruses using one of 3 methods: a secure scan which is slow, but makes an accurate identification; full scan which is a little faster, or a quick scan that only searches for known variants. It detects 250 families of viruses. It scans diskettes or your entire system, and allows the addition of a user-defined hexadecimal search pattern with wildcards. It performs an analysis of the memory allocation, programs, and boot sectors. It reports a list of infected files, disinfects files, and renames the infected files so they may not be executed. Optionally scans DOC and DOT files for Microsoft Word Macro-based viruses. detection of new viruses. dded detection of the AOLGold Trojan and 290 new viruses. (Reg.Fee: $0)
LINEFEED LineFeed lets you precisely position a piece of paper in your printer. (Reg.Fee: $0)
LSRCMP12 Laser Compare 1.2 allows you to take two ASCII files which may be of different lengths and compare them for mismatches. Every mismatch will be displayed onto a scrollable window one at a time and the files are then automatically synchronized for the next mismatch. It is able to compare millions of lines within seconds. (Reg.Fee: $12)
MFD Meyer File/Directory Utilities 1.1 is a collection of six programs for performing various file management tasks. It includes utilities to find files by name, time and date, attributes, or size, display file and directory information, change file names, attributes, or time and date, compare files, and quickly change directories. (Reg.Fee: $20-100)
ZIP ZIP 2.02A is a tiny, fast utility to transfer files between two PCs over an ordinary serial cable connection. This is most useful when the computers don't share a common disk format, as in the case of a desktop PC with 5" drives and a laptop (or PS/2) with only a 3" drive. It is easier to use, and over 6 times faster, than any ordinary telecom program. It is also DesqView aware and has comma/semicolon file delimiters. You can even clone ZIP if incompatible disk formats prevent you from getting ZIP.COM itself onto the second computer to begin with. upport for infrared ports on the HP LX palmtop. Included support for infrared ports on the HP LX palmtop.(Reg.Fee:$30)
---
Back to Sep 1996 Index