---
NOVEMBER 1996
---
Internet@Albert.Hall
The Internet came to the Albert Hall on the 8th of November for a three day exhibit of everything a person needs to get connected and to use the 'net. The PC Users Group took the opportunity to be present and share information about the services offered by the group.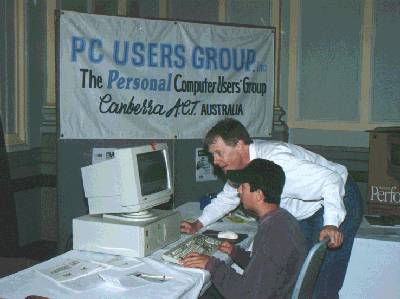 About thirty exhibitors were present at the event offering software, hardware and services involving the internet. Over three days thousand of visitors were given the opportunity to speak with service providers and have a 'hands on' view of what is available online.
Free lectures were offered covering how to get connected, how to do business and how to create a homepage online. An Internet Cafe was also available for those who wanted to mix their Internet and capuchinno habits.
But the most impressive exhibit was, of course, the PC Users Group's booth which was staffed by members throughout the event. A computer was made available for those who wanted to try out The Internet Project. Many visitors were interested in the group and information available about our services. The PCUG Consumer Awareness Guide was in big demand as people indicated a need for assistance when purchasing equipment.
All in all, the event was most interesting and enjoyable. The group received a lot of attention and a few new members to boot.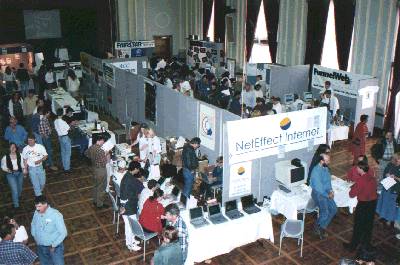 Our Meetings, Venues and Publicity person, Ken Livingston and his trusty assistant, Emil Joseph deserve a medal for their willingness to put together the display on such short notice and for their hard work. A big "Thank You" to all the members who donated their time to help out, including:
Brian Williamson
Rod Farr
Owen Cook
Ken Livingston
Ann Byrne
Allan Mikkelsen
Mike Kelly
Hugh Alston
Floyd Patterson
Hans Karmon
Robert Sayers
Jim Goodspeed
Darrell Burkey
Karl Auer
Kym Michael
---
Back to Nov 1996 Index