---
NOVEMBER 1996
---
Software Library
by Phil Trudinger
---
The files described in this article are on the October 1996 CD-ROM (PsL Vol 4, #10) which is currently on the Bulletin Board: all are ZIP files. Please quote the month or Vol/# when ordering files on disk.

The text files, CD1 through 7, in Area 1 of the Bulletin Board are the monthly CD-ROM file lists. Catalogues as EXE files are available on request from the software librarians (see Member Services in Sixteen Bits).

Reminder

Most CD-ROM programs are Shareware. A reasonable time (gener-ally one month) is allowed for evaluation, but if you continue to use a program beyond this time you should comply with the authorís conditions that usually require payment of a registration fee.

Bear in mind that this is the only way by which an author receives any reward for his/her efforts. All registration fees are US dollars.
---
---
NEW AND UPDATED WINDOWS PROGRAMS
(An asterisk denotes Windows 95 compatibility)
Address Book
AM_AB13 Universal Address/Phone Book 1.30 is a name and address database for Windows. Features include an unlimited number of entries, automatic sorting on any field, search facilities, modem dialing, envelope/report printing, and more. (Reg Fee $17)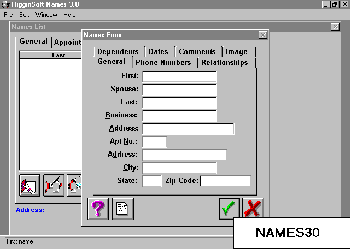 NAMES30 HigginSoft Names for Windows 3.0 is a powerful name, address and phone number database with an automatic dialer. Each entry can have up to five phone numbers, as well as email address, dependent's names and birthdates, important dates (spouse's birthday, anniversary, etc.), a free-form comment field, and a graphic image. Printing capabilities include detailed reports, a phone list, envelopes, and mailing labels. This is a very impressive package. (Reg Fee $15)
Games
ALYWAY* Moraff's Ultra Blast (32-bit) is a high-quality arcade breakout game for Win95. Features include 25 complete levels, support for 16 to 16 million colors, a high score list, lots of special visual effects, and much more. (Reg Fee $?)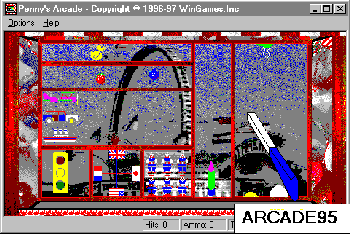 ARCADE95* Penny's Arcade 2.0 is a shooting gallery game for Win95 with a full range of skill levels and configuration options. Up to four players may participate. (Reg Fee $10)
BGF2_W95* Board Games for 2 3.0 contains eight classic board games for Win95. This includes chess, backgammon, checkers, goban, pipes, and others. Network/modem play is supported. (Reg Fee $15)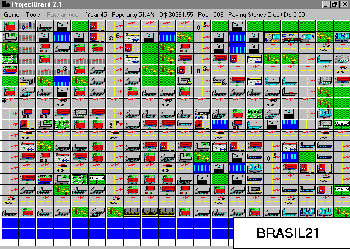 BRASIL21 ProjectBrasil 2.1 is a simulation-type game where you assume the role of mayor of a Brazilian city and try to get re-elected every four years. To retain your popularity you must build schools and hospitals, increase the net worth of the citizens, etc. (Reg Fee $19)
CONFUS15 Confuse 1.5 is an addictive puzzle game for Windows where the object is to push all the buttons down on the playing grid. What makes this rather difficult is that whenever you press a button, other buttons on the grid are affected. (Reg Fee $5)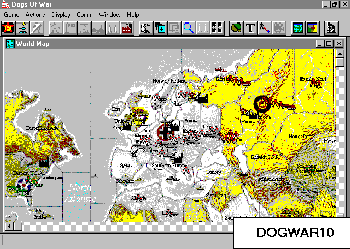 DOGWAR10* Dogs of War (32-bit) 1.0 is a multi-player war game for Win95 where you may play for the Allies (UK, US and USSR) or for the Axis Powers (Germany and Japan). Each turn consists of the development or purchase of weapons, movement, combat, collection of income, or the placement of new military units. You will need to apply military strategy as well as prudent economics to win. (Reg Fee $30)
GOLF_CRD Golf Score Card for Windows 2.0 allows you to enter details of golf courses, and up to 10 rounds of golf which you have played on those courses. It then offers a comprehensive range of analysis techniques which can help you improve your game. (Reg Fee $20)
KCHESW22 K-Chess for Windows 2.2 is an educational Chess program for Windows that shows its own calculations as it works. It features various types of hints and help, and can devise the best line of attack for several moves ahead. One or two players may participate, or you can observe the computer in auto-play mode. Keyboard and mouse input is accepted. (Reg Fee $20)
Internet
AM_IB47 Internet Book for Windows 4.70 provides an easy way to gather information about all the Internet Resources: World-Wide Web Pages, Gophers, Archie Servers, FTP Sites, E-Mail Addresses, and News Groups. (Reg Fee $15)
GRAB URL Grabber allows you to "grab" and store URLs, not only from WWW browsers, but from news groups, Email messages and other sources as you are reading them. It will automatically convert your collection of URLs to active WWW links on an HTML page. (Reg Fee $20)
MSICE* MSIE Cache Explorer 1.10 provides easy offline access to all Web pages that have been cached by the MS Internet Explorer. It provides full text search capabilities and can extract entire document trees. Requires Win95/NT. (Reg Fee $20)
TPRO106* Teleport Pro 1.06 is a multithreaded file retrieving, offline-browsing webspider for Win95. It scans the Internet for files or sites of interest, and downloads them to your hard drive for fast offline access. Features include advanced file type/size matching, keyword filters, the ability to handle proxy servers and password-protected sites, automatic retries, and more (Reg Fee $40)
Miscellaneous
ADD_1+ Addition #1 4.0 helps improve your mathematics skills in addition, with more than five million problems presented with colorful graphics and fun sound effects. You can choose from four levels of difficulty, and from 1 to 50 problems per session. (Reg Fee $10)
BBLNX10* BibleNexus for Win95 1.0 provides the King James Version of The Holy Bible in an attractive, visually-oriented event-driven system. Features include global Bible searches for words, names, phrases, or portions of scripture; selective passage text printing; and much more. (Reg Fee $28)
CAADT Computer Aided Alcohol Design Tools facilitates the building of alcohol compounds. The Periodic Chart and an Alkene Calculator are easily accessed through push buttons. (Reg Fee $0)
CTCAL12* CT Calendar 1.2 is a 32-bit desktop calendar for Win95. Requires VB40032. (Reg Fee $10)
CV35216* Convert It! SE 3.52 is a unit of measure conversion utility with 14 categories of conversions and a 15th for custom conversions. You can edit the conversion factors, add or delete units. Convert temperature, mass, volume, time, area, angle and more. On-line context sensitive help is provided and a section is included on other conversion factors that you might use. CV35232 is the Win95 version. (Reg Fee $25)
EXCHANGE Exchange for Windows 3.1 is a currency converter for more than a dozen of the world's most commonly used currencies. Features include a fully adjustable exchange rate, built-in calculator, four decimal place accuracy, Excel export capabilities, and more. (Reg Fee $27)
HOVIHELP HOVI Help provides a tutorial on computers, DOS, and Windows in a familiar Help file.
MINDMISD MindMan 2.10-8 is a "brainstorming" program for Windows that allows you to collect your thoughts in the order that they occur to you. You can easily make thought digressions and later return to the original thought to help develop a good overall structure for the solution to problems. This version is limited to 25 branches. (Reg Fee $99)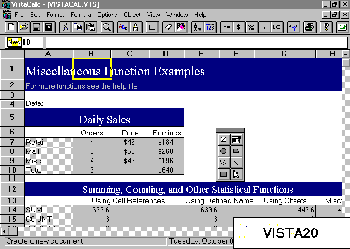 VISTA20 VistaCalc 2.0 is a powerful spreadsheet program for WIN31. Its user friendly interface enables you to easily create everything from your own personalized budget plan to financial and accounting presentations for the office. (Reg Fee $20)
Phone utilities
DIALP15 DialerPro 1.5 is a desktop phone dialing package for Windows. You simply type in names and phone numbers, then double-click on one from the list to dial it. (Reg Fee $29-$39)
PSEA303D Private Secretary for Windows 3.03 monitors the phone via a Hayes compatible auto-dial modem and notifies you on your pager and/or at another phone that a call came in. It can also send wakeup calls and routine reminders to keep you on schedule for important events/meetings. All incoming call activity can be saved to disk. (Reg Fee $30)
Reminders
REMIND32* Reminder 32 2.1 allows you to set up automatic reminders for birthdays, anniversaries, etc. You can set reminders to be shown every day, once a week, or monthly as well as for one specific day with an advanced warning of up to 30 days. Requires Win95. (Reg Fee $0)
REMWIN11 Date Reminder for Windows 1.1a allows you to be notified of unique, yearly, monthly, weekly or daily events. Each event is prompted in a main text message window and may optionally be linked to some action (bell, playing of WAV-files, or program execution). (Reg Fee 15 DM)
Screen savers
3D_TRF13 3D Terrain Flight Screen Saver displays 3-D rendered jets flying over mountain terrain. Requires a 386+ and 256-color VGA. (Reg Fee $14)
BPLAY211 B-Play 2.11 allows you to select any BMP or WMF graphic file for use as a WIN31 screen saver. Other features include the ability to step through all the files in a selected directory, play a selected WAV sound file as a graphic is displayed, and the ability to overlay a text message on the graphics. (Reg Fee $12)
BSAVE12* BalloonSaver 1.2 is a WIN31/Win95 screen saver with animated hot-air balloons that float across the screen, blown by the clouds and wind. A password protection option is available. (Reg Fee $19-$29)
DDA1296 Dave's Digital Art Screen Saver 2.96 displays six 256-color scanned abstract artworks by noted surrealist David Martsolf, that rotate every 20 seconds with locked transition effects plus your password choice. (Reg Fee $15)
DSQSLN21 DesqTop Solutions 2.1 automates the changing of a pre-selected group of Win95 screen savers and system sounds, as well as wallpapers. These may be configured to change either randomly or sequentially at a selected time interval, or they may be changed manually. A convenient toolbar for launching your favorite applications is also available. A clock may be displayed which also doubles as a button to launch screen savers or change wallpapers. (Reg Fee $15)
HOLYWISE Holy Wisdom Screen Saver displays NIV Bible verses. (Reg Fee $0)
JELLYSVR* Jelly Logo Screen Saver is a demo of a Win95 screen saver that animates a bouncing logo across the screen. (Reg Fee $8)
LSAVE20 LogoSaver 2.0 allows you to use any BMP graphic and bounce it around the screen. (Reg Fee $19)
WFALL13* Waterfall Saver 1.3 displays an animated waterfall. (Reg Fee $19-$29)
WSAVER Win Saver 4.0a cycles between 14 different screen savers. (Reg Fee $5)
Utilities
AHANDY15 Handy 1.5 is a collection of over 30 utilities and games for Windows including a typing tutor, unit conversion, check book balancer, font utilities, a 7000 year calendar, world clock, and much more. (Reg Fee $34)
COT16_12* Crypt-o-Text 1.2 allows you to "scramble" an email message so that it is unreadable until it is "unscrambled" by the person receiving your message. You can also apply a password that will be required before the message can be unscrambled. COT32_12 is the WIN95 version. (Reg Fee $15)
ELBOW Elbow Grease for Windows 2.00 provides access to 40 applications of your choice on a switchable toolbar, a status bar displaying free disk space and free memory, and a time/date display. Also included is a perpetual calendar, perpetual ToDo list, a tic-tac-toe game, and more. (Reg Fee $20-$25)
EVNTMN14 Event Manager 1.43 is a Win31 event scheduler which lets your computer do tasks when you don't want to, such as downloads at 2AM, backups, etc. It launches Windows or DOS programs; launches foreground, background, and multiple tasks; can terminate another conflicting program; will time and end, or launch and forget applications; and supports keystroke automation. (Reg Fee $12)
EZSEP105 EasyZIP Self-Extractor Pro 1.05 converts ZIP files into self-extracting EXE files. Several optional settings allow the EXE to be configured to suit a range of installation parameters. Requires Win95/NT. (Reg Fee $49)
HW16V22* Hex Workshop 2.20 contains a HEX editor, base converter, bit calculator and HEX calculator for WIN31. HW32V22 is the WIN95 version. (Reg Fee $20)
MM31 Macro Mania 3.1 is an easy-to-use macro program that works with any Windows program. It enables you to run programs (or switch to currently running programs) and then send keystrokes to that program with one simple command, just as if you had manually started the program and typed in the keys yourself. It can also be told to switch back and forth between programs to transport data via the Windows' clipboard using cut, copy, and paste functions. (Reg Fee $18)
SGLLCK40* Windows Task-Lock 4.0 provides a simple and inexpensive, but effective way to password protect specified applications no matter how they are executed. It is easy to configure and requires little to no modifications to your current system configuration. Requires Win95/NT. (Reg Fee $10)
SNPSHT95* SnapShot 95 2.0 is a screen capture utility for Win95 that allows you to capture the entire desktop, the active window, a user-defined area, a user-selected object, or a client area. (Reg Fee $12)
SPLITZ10 Splitz 1.0 is an incredibly easy-to-use file splitting and joining utility for Windows. You simply choose the file to split, then select the size of floppy disk you wish to transfer the files to. (Reg Fee $0)
TRANSX95* Transfer 95 allows you to export an entire operating system to another physical hard drive, including all pre-installed applications and their associated settings. Requires Win95. (Reg Fee $40)
Word processing
GRMSLM11 Grammar Slammer 1.10 provides useful grammar information in a Windows Help file. (Reg Fee $25)
TPAD16 TextPad 2.1 is a powerful text editor for WIN31. It can handle files with up to 32,000 lines of 4095 characters, with multiple simultaneous edits and up to two views on each document. Other features include full undo/redo facilities, print previewing, a toolbar for frequently-used command, a built-in file manger, support for Unix and Macintosh text file formats, drag and drop support, and much more. (Reg Fee $27-$35)
WW96 Wordware '96 is a collection of 60 macros and templates for Word 7. This covers everything from copying a file, to managing your projects, to managing your business contacts. (Reg Fee $40)
---
NEW AND UPDATED DOS PROGRAMS
Games
1STUPID Tommy's Stupidest Game Pak 1 is a set of 15 amusing games for kids of all ages, including shoot-em-ups, word games, simple puzzles and more. Most of these use simple ASCII graphics, so they should work on most computer systems. There is an annoying 60-second delay screen at the startup of each game. (Reg Fee $30)
2BOARD Tommy's Board Game Pak II is a set of 12 software board games and skill toys. Included are Mill (Merrills), Connect the Dots, Maxit, Awari, Twisted Wister (sliding square puzzle), Math Tooter, Tut Tut Tut Tut (4X4 Tic-Tac-Toe), String of Pearls, Twisty Board and Telesis. (Reg Fee $43)
GALAXI Galaxi #1133 is a fun shoot-em-up arcade game where you must blast away at waves of attacking alien spacecraft. Features include excellent VGA graphics, joystick support, and SoundBlaster sound effects. (Reg Fee $20)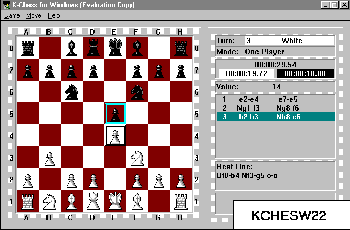 KCHESS K-Chess 2.2 is a chess game that shows its own calculations as you play. It includes a hint mode that calculates the best line of attack for several moves ahead. Play against someone else or challenge the computer to a match. K-Chess can be controlled by keyboard or mouse. (Reg Fee $20)
PULSE12 Pulse Pure 1.2 is an exciting arcade game where you must group and combine game pieces to advance levels, receive power ups and deal with sudden events. Features include fantastic ray-traced 3-D graphics, an excellent music soundtrack, keyboard/mouse/joystick input, and more. (Reg Fee $9)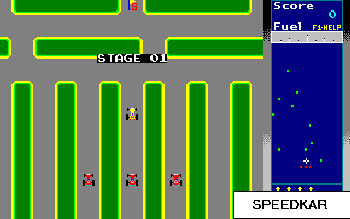 SPEEDKAR Speed-Kar #1133 is an fun racecar arcade game where you must try to clear each level of flags while avoiding enemy cars that are trying to crash into you. Each level becomes increasingly more difficult, with more enemy cars and deadly road hazards. Features include joystick support, a high score listing, and SoundBlaster support. (Reg Fee $20)
Miscellaneous
CDE111EN CD-ROM Explorer 1.11 helps catalog CD-ROMs and other removable media. It creates a comprehensive data file that allows you to explore the contents of high capacity drives. You can view documentation files, start programs (even Windows programs), unpack files to a temporary directory, and more. (Reg Fee $40)
CDPTUTOR The Electronic Computer Tutor provides a glossary of computer terms, as well as a primer on computer hardware. (Reg Fee $20)
COMTERMS Computer Terms Study Program provides detailed explanations of 50 common computer terms. (Reg Fee $7.50)
QUIKPK QuikPak is a set of four programs to enhance operations in DOS. QuikCalc is a Lotus 1-2-3 style spreadsheet with support for over four billion cells of data. QuikDesk is a file manager with several functions for file navigation, as well as a calendar, calculator, viewer, ASCII table, and more. QuikEdit is similar to DOS EDIT with additional features such as WordStar key support, clipboard, and calculator. QuikView provides an easy means for viewing any text file on your computer. (Reg Fee $0)
NAME33 NameBase 3.30 keeps track of names, addresses, phone numbers and related notes. It features a phone dialer, pocket-size address book, printed reports, labels and mouse support. Records can be located quickly by typing the first few letters of a name. (Reg Fee $25)
PCPUB218 PC Publisher 2.18 is an electronic book maker. It creates stand-alone EXE's from ASCII text files. (Reg Fee $44)
PHONE_DH The Personal Phone Directory is a simple name and telephone number database that can track up to 34 entries. (Reg Fee $5)
SUPFNT16 Super Fonts I 1.6 contains 17 display fonts for the HP LaserJet, printer drivers, instructions for using these fonts with WordPerfect 5, Word 5.0, and with other programs. (Reg Fee $25-$50)
THEHEART The Heart: The Engine of Life 5.04 is an interactive animated tutorial on the human heart. It provides information on the heart's basic functions, disease, risk factors, and much more. This is a very impressive package. (Reg Fee $25)
Games
BL15 BriteLine 1.5 is a 1k TSR that highlights the entire line the cursor is on, making it easier to locate the cursor on laptops and to follow rows of numbers, etc, across the screen on any computer. (Reg Fee ($15)
BREMZE BREMZE is a small resident program that allows you to regulate the speed of your CPU. (Reg Fee $0)
CONF820E PC-Config 8.20 displays your system's configuration. It finds Local-Bus and PCI boards, Cyrix486 and Pentium CPUs, detects lots of VGA-chips and all the standard hardware. Detects Intel Saturn and Neptun chipset in Award BIOS, tests for FDIV bug on Pentiums, recognizes more Cirrus 5428 chip revisions, detects IBM XGA, benchmark for up to 4 hard disks, displays CPU vendorID, and more. Detects additional types of 387 NPUs. etects AMD 486 DX/4 SV8B CPU, displays IDE - parameter of drives 3 and 4, hard disk - benchmark for up to 4 drives, detects AMD 486 DX/4 CPU, displays virtual DMA specification driver, ASPI-info implemented, detects Intel DX/2 DX/4, detects more S3 VGA chips, displays PCI slot info, and detects NexGen586, C&T 38600DX CPU, and Pentium Overdrive. Cache-size-detection increased to 512K, detection of 160 additional PCI-vendors. (Reg Fee $15-$70)
CTRL3_80 Control 3 8.0 allows you to view up to three directories at once. It is easy to move through directories and between drives in the program's multi-menu environment. You can execute, copy, delete, rename, sort, and print files and more, as well as make and remove subdirectories, including whole tree structures. Other features include a built-in editor and file viewer, directory lists, DOS shell, file encryption, proportional disk space indicator, DOS command support, and quick file and directory find. (Reg Fee $20)
CTSSPU40 CTS Serial Port Utilities 4.0 is a set of Com Port testing and control utilities for consultants, PC support personnel, and anyone with a com problem. (Reg Fee $24-$83)
INK150A Inkutils 1.50a contains 11 essential DOS utilities. DEDIT is a 4DOS/NDOS description editor with import functions. EE is a 1K TSR pop-up calculator. CC is an interactive disk cache control panel that works with SmartDrv or compatible cache. DD allows a directory to be deleted. CE replaces the standard "retry, ignore, fail, or abort" message with a pop-up window that gives more info on the error that has occurred. TM allows various text modes to be selected. LE displays only the executable files in the current or specified directory. MCD performs the DOS commands MD and CD in one go. It can also create multiple directories. FM reduces the time taken for a program to reset the mouse. DZ intercepts any divide overflow errors. IP lets you see which TSR programs from the Inkutils are currently resident in memory. (Reg Fee 15 Pds)
LAURA201 LAURA 2.01 will encrypt your ASCII and binary files with a multiple pass recursive encryption system. (Reg Fee $0)
N1051386 Net-Tamer - 386+ Version 1.05 automates many of the tasks performed on PPP dial-up accounts. It can capture email and Usenet messages to files that can be read offline by the included mail reader. Other features include Web browsing, FTP file transfer, uploading and downloading files, Telnet to other Internet addresses, and more. (Reg Fee $35)
NAB21 Nabbit 2.1 is a 2K TSR that lets you grab ASCII characters off your screen and insert them into other programs through the keyboard buffer whenever you press the Insert hot key. This is an easy way to transfer data between programs. You may also send captured data to your printer to print envelopes, labels, or partial screen dumps. (Reg Fee ($15)
OZPACK13 Oz-Pack 1.3 is a collection of useful utilities. It includes a VGA font package, picture calendar, calculators, text capture, file find, system information, disk space analysis, writing beautifier, evolution simulation, big titles, PCX to EXE file conversion, anti-virus, ASCII table, text file convert, EXE-menu, personality analysis, print previewer, quick memory report, program timer, and more. (Reg Fee $35)
---
Back to Nov 1996 Index