File history
From Info Wiki
Windows 8 has extended the options for users who want to insure themselves against loss of their operating system, their files (individually or collectively) or all of the above.
File History is a way of taking running backups of files at pre-determined intervals. There is an article about this at http://blogs.msdn.com/b/b8/archive/2012/07/10/protecting-user-files-with-file-history.aspx
This is a rather unusual physical setup - it is difficult to imagine there being any security in having some sort of external device constantly connected to a production computer. If the production computer fails, there is every chance that it could harm any connected devices.
The more fullsome method is a direct copy of what was available in Windows 7. The trick is to find where it appears in Windows 8.
There are 2 ways of starting your quest.
The first is to open Control Panel and look for Windows 7 File Recovery.
The second is to go to the tiles screen. Open the Charms menu, click on Search, then Settings. . Type 'file recovery' and look for Windows 7 File Recovery on the screen.
Both methods finish up opening the file recovery window. If you used backup in Windows 7, you will recognize the screen.
You have 2 options - create a system image, or a system repair disk.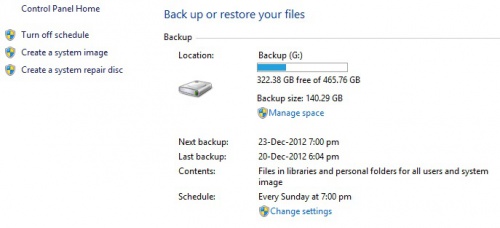 The repair disk option is what you will have used previously. Everyone should make one against the possibility that you might find it useful.
A system image is a backup of everything on the selected drive to some sort of device - a hard drive, a DVD or any other connection you might have.
Just as before, a system image is a complete image - operating system and files. It is total - there's no grabbing individual files in the event of some localised disaster. So, despite being known as File Recovery, that isn't the point at all!
To recover using the system image, simply boot from the image. Or, if you want more choices, hold down the Shift key while you reboot your system.
Windows 8.1 update
In this release, it is possible only to make a system image. The Windows 7 File Recovery has been removed, to be replaced with System Image Backup.
If you want to backup files, you are encouraged to use File Recovery, typically with an external drive as host.