---
JUNE 1996
---
Thanks Lis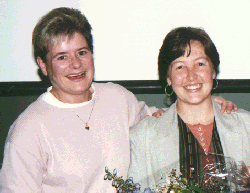 Anyone who knows a committee member or volunteer for the PC Users Group personally, would be aware of how much time and energy these people put in to the operations of the group.
Lis Shelley is one of these people and has taken on many responsibilities throughout the years she has been a member.
While Lis is the current Vice President of the PCUG she is probably best know as the editor of Sixteen Bits for over the last two and a half years.
At last month's main meeting held at the ANU, Lis was once again at the helm until the President of the PCUG, Ann Byrne, announced that she had a special presentation that she would like to make.
Much to Lis' surprise she was the recipient of this presentation in which Ann shared with the group the extensive involvement and commitment that Lis has had with the group and how her generous contributions have benefited the PCUG in general.
After presenting an inscribed wine goblet and flowers on behalf of the membership, the loud applause signalled the sentiments of the large audience present.
A huge thanks Lis, for a job well done and best wishes from us all.
---
Sixteen Bits Online Index
---