---
JUNE 1996
---
What's New
by Jim Hume
A guide to interesting new products

This month Corel have announced a number of new product releases in their CD Home series and expect to release a total 0f 35 additional titles in 1996.
Jim Unger's classic "Herman" cartoon series comes to life in The Complete Herman Collection. Great as a screen saver it offers hours of fun and laughter.
"Internet Mania" is designed to increase productivity on the WWW with 8 powerful applications including a personal stock ticker to make surfing and gathering information from the Internet faster and easier.
"CorelFLOW3" is a powerful 32-bit diagramming program with an enhanced user interface for Windows95 to create business graphics and technical diagrams. It has more than 6,400 drag and drop symbols, thousands of clipart images and templates plus 150 fonts, Microsoft Office Binder support and CorelDRAW6 graphics technology.
"The World's Greatest Classic Books" includes literary works of William Shakespeare, Hans Christian Anderson, Charles Dickens, Abraham Lincoln, Jonathan Swift, Lucy Maud Montgomery, Mark twain, Leo Tolstoy, Jacob and Whilhem Grimm, The King James Version of the Bible, The Koran, The Book of Mormon, The US Constitution and Magna Carta, The Descent of Man and the Book of Prognostics. Included are 200 biographies, over 15 minutes of full motion video from classics like Treasure Island and Pygmalion and more than 300 illustrations.
"Interactive Alphabet" is designed for preschoolers and allows them to learn the basics of the alphabet with animated characters like Terrance the turkey and Ollie the Ox.
Yet to come are the "Corel Medical Series" that will focus on providing comprehensive medical and nursing education of interest to both the medical profession and the general public.

Micrografx have announced the release of QuickSilver, a software plug-in for Netscape 2.o that extends Micrograrfx ABC Graphics Suite, allowing users to place, view and interact with object vector graphics inside web pages. It is the first component of their internet strategy enabling greater freedom in communicating ideas through the use of graphics on the internet/IntraNet. In June the complete QuickSilver Pack is being shipped with full support also for Microsoft Internet Explorer 3.o. QuickSilver beta is available for download immediately at http://www.micrografx.com/quicksilver.html.
Other New Products are:
ABC FlowCharter 6.0 for Windows 95 with new integrated data analysis module for TQM and BPR projects and Wizards for the SPC Charting process. Upgrade Price $249 RRP $595.
Windows Draw 4.0 for Windows 95
This is designed for simple Windows 95 flow-charting and features the Microsoft Office Interface, it also includes drawing, photo-editing, painting, and a drag and drop clipart manager, plus more than 150 quick-start templates .
Upgrade Price $49 RRP $95
For further information:
Robert Stirling (02) 9977 8922
City SoftWare 1-800-629-500


CYBERsitter is a Solid Oak Software product which is a password protected windows program designed to give you the capability to ensure that your children will not be able to access adult-oriented material or offensive and suggestive language from the Internet, World Wide web, On-line services, E-Mail, Newsgroups, Private Bulletin Boards and Downloadable files.
It automatically aborts the process and/or an alert is generated, when a child tries to view an adult oriented area. Requires Windows, 4MB RAM 386 or higher 1 MB Hard Disk Space and a Free trial version is downloadable from http:www.cybergear.com/cybsit.html#info.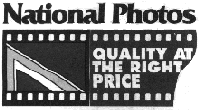 National Photos of Southport Qld In addition to developing and printing 35mm film at competitive prices have introduced a Pictures on a Disk ™ service. A new way to share your photos. You can now have your 35mm film developed by them and for an extra $5.95 you can receive your photos on a disk as well. In addition with your first order they are offering the Photoworks™software programme free. You can then pop your disk in your floppy drive and behold; your photos are on your computer. Free Phone 1-800 074237.
---
Sixteen Bits Online Index
---