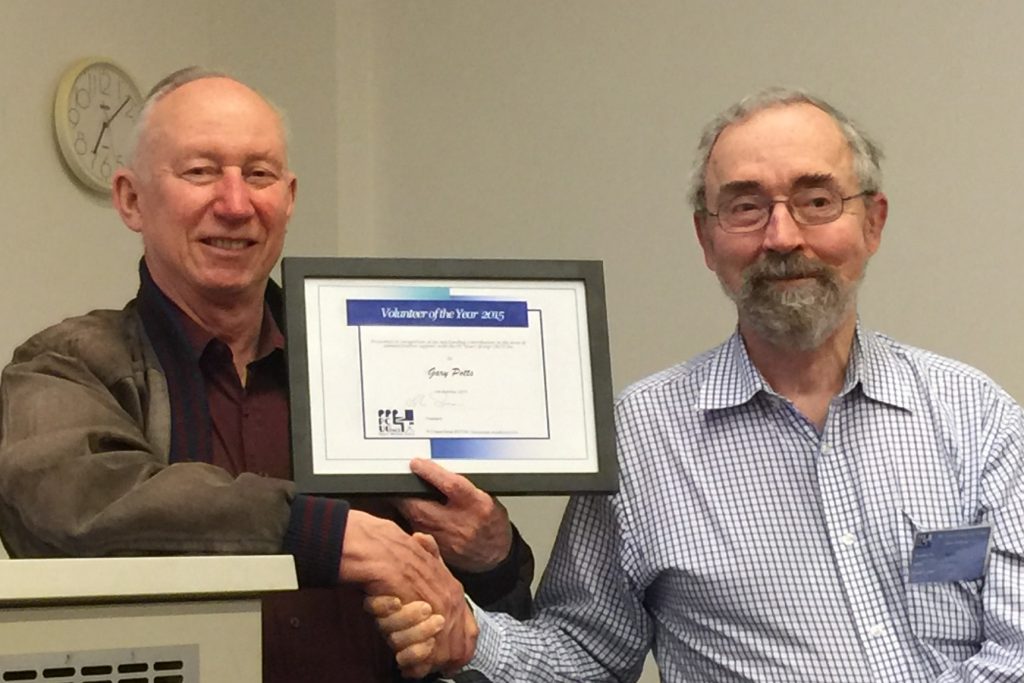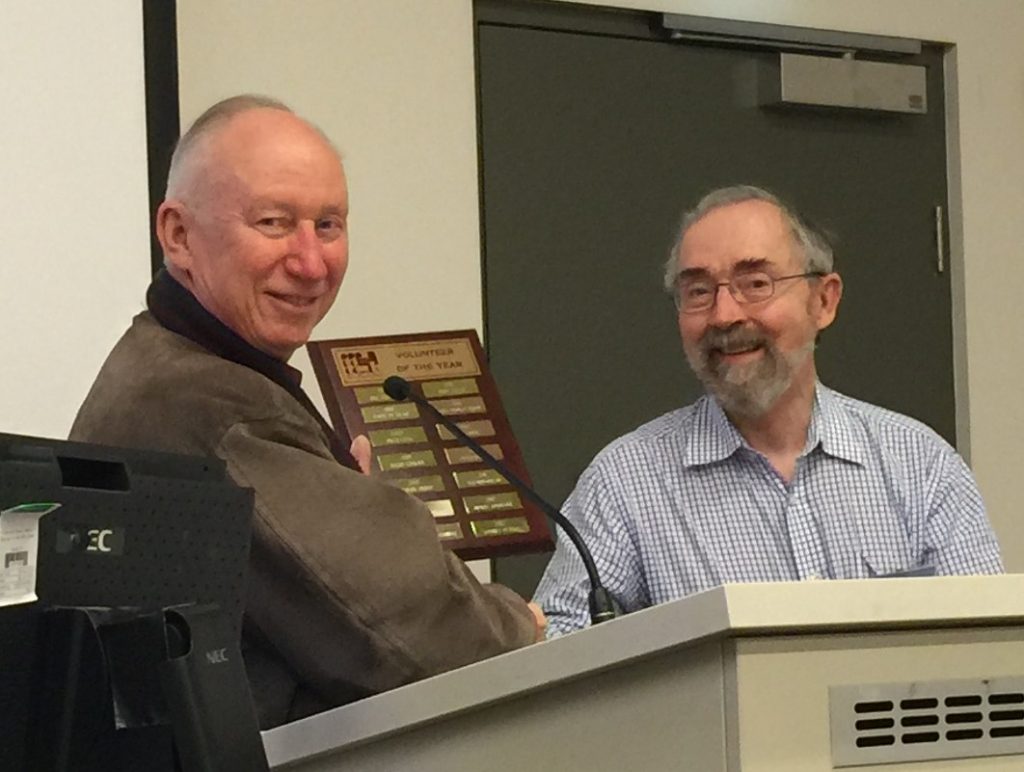 The Volunteer of the Year for 2015 was proudly awarded to Gary Potts by Peter Barker the PCUG AGM in October 2015.
Gary joined PCUG in 1993, and started volunteering as a staffer in early 2003, working at Belconnen and later at Holder.
After PCUG moved out of Holder GCCC, Gary continues his PCUG admin volunteering with answering phone calls to PCUG's 1800 number,   processing payments from members; and moderating several PCUG mailing lists.
Gary volunteered with the CIT Home Tutor Scheme from 2004 until Oct 2014 when CIT lost the contract with the Department of Immigration and Citizenship to a private company. He also taught community members to use computers and the internet at the Kippax Library from its opening until recently, when the ACT government changed the way it 'employs' volunteers. Gary maintains a diverse commitment to the ethos of volunteering. About 30 years ago, he started volunteering doing 'Meals on Wheels' with a friend, and still does it today. Gary would like to find other opportunities to help people with English and computers.
Like many of the PCUG stalwarts, Gary worked professionally in IT. From initial training in 1969 he worked in Defence, or a Defence related Department for 34 years. During this time he was involved in many aspect of Defence IT, undertaking work in a variety of computer languages on various different hardware platforms, even being able to remember working on (the now archaic) tape based sequential processing systems. Gary enjoyed working with military personnel.
Spending 34 years working in IT means that you are sure to see major changes. Gary saw the reorganisation of Defence, with the amalgamation of the three Service Departments, numerous changes to the internal organisation of things like Personnel and Pay systems, and experienced the joys of integrating off-the-shelf products with the requirements of the Department – a problem that arose when the government required all departments to purchase off-the- shelf products. Gary was also involved in the Defence "Y2K" project to remediate program code and database design to make the Army and RAAF Personnel and Pay systems "Y2K'" compliant. The media complained, on 1st January 2000, that nothing untoward happened. "Nothing happened" because skilled programmers put in a lot of effort to ensure they didn't happen. Back when the systems were designed in the mid-sixties, no one thought the systems would still be running 30+ years later.
Gary has been on the PCUG committee, since about 2010, and encourages other members to join the committee and lessen the load.