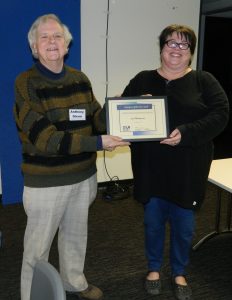 2018 Volunteer of the Year Award – Lisa Montgomery
Lisa has been a member of PCUG since joining in May 1996. Like most of us Lisa joined to get internet access via a slow dial up modem which was state of the art at the time. Lisa was elected to PCUG Committee in October 2015 in the position of Treasurer.
Lisa was an accountant and qualified CPA (now retired). She started her career as a graduate at the Australian National Audit Office in 1991, fresh from doing a commerce degree at Canberra
University. Lisa then worked in various finance related jobs in Treasury, the then Department of Employment and Education, the Department of Immigration, and then finished her working career at CrimTrac.
During her year on the committee Lisa undertook a number of tasks, unrelated to her role as Treasurer in particular rewriting our membership renewal notices. Lisa retired as a Committee member at the 2016 AGM for health reasons, but continued to support the committee during 2017 and 2018 maintaining our accounts. Our last three Financial Statements are all due to Lisa's hard work.
In her spare time, Lisa spends her time with family and friends, and mostly with her two beloved miniature schnauzers, Oscar and Darcy – taking them to dog parks and for long walks.